Today KWN Program Director & Lead Researcher Nicole Farnsworth made a presentation to the U.S. Department of State on KWN and its members' history and work, including on the Women, Peace and Security Agenda. She shared ideas on how the U.S. can better support women's rights activists and movements, including by
1) regularly consulting WCSOs;
2) speaking about WCSOs, their priorities, and expertise in political dialogues with officials and in high-level events;
3) investing in WCSOs and movements as long-term partners because social change takes time and WCSOs remain dedicated and engaged in bringing about social change; reviewing funding modalities to compensate WCSOs for their expertise and engage them as experts; and
4) support WCSOs' advocacy, at local, national, and international levels.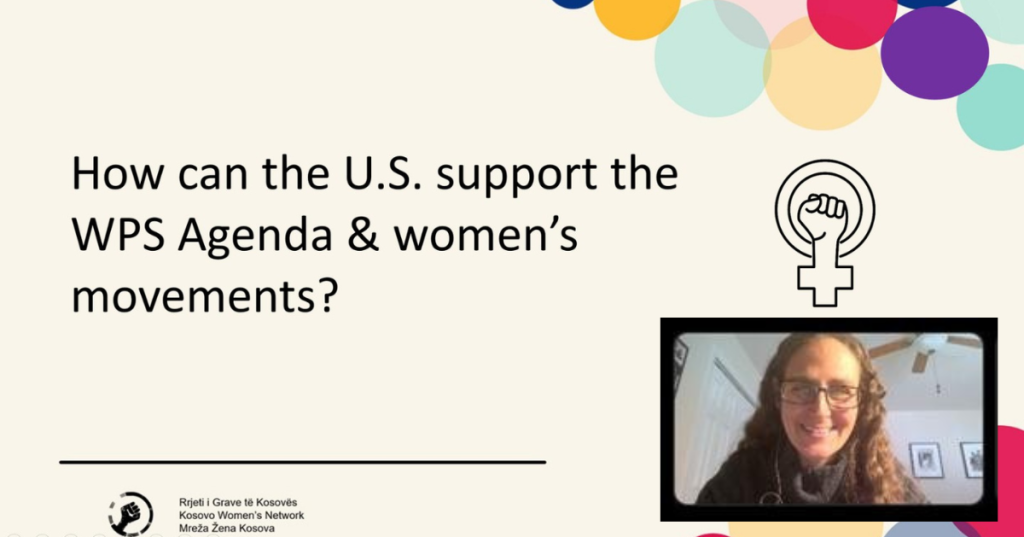 The U.S. Department of State organized this presentation as a follow-up to President of Kosovo Vjosa Osmani Sadriu's Women, Peace and Security Forum on Oct. 22-23.
Special thanks to the U.S. Department of State for continuing the conversation and consulting WCSOs and activists. We appreciate the opportunity to share our experiences and look forward to continuing this dialogue!