The Coalition for Addressing Gender-based Discrimination in Labour in the Western Balkans (WB) launched the second edition of their research report titled Gender-based Discrimination and Labour in the Western Balkans on 20 May in Brussels and on 30 May through online platform Zoom.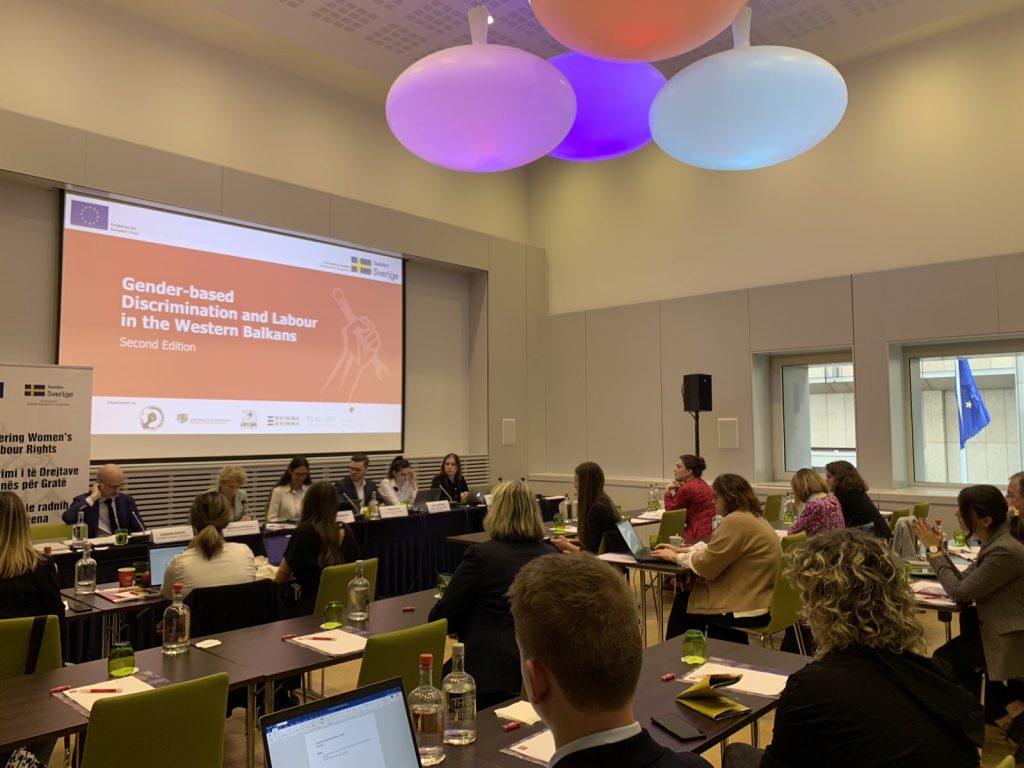 The research sought to identify shortcomings in the relevant legal framework; awareness and prevalence of gender-based discrimination related to labour; the extent to which people have filed claims; and how institutions have treated such cases.
In her opening remarks in Brussels, Michela Matuella, Acting Director of the Western Balkans in the Directorate General for Neighbourhood and Enlargement Negotiations (DG NEAR) at the European Commission (EC) said: "CSOs are a key player in moving these issues forward, and this report being launched today is proof of that. We will encourage the political leadership in the region to follow up on its recommendations.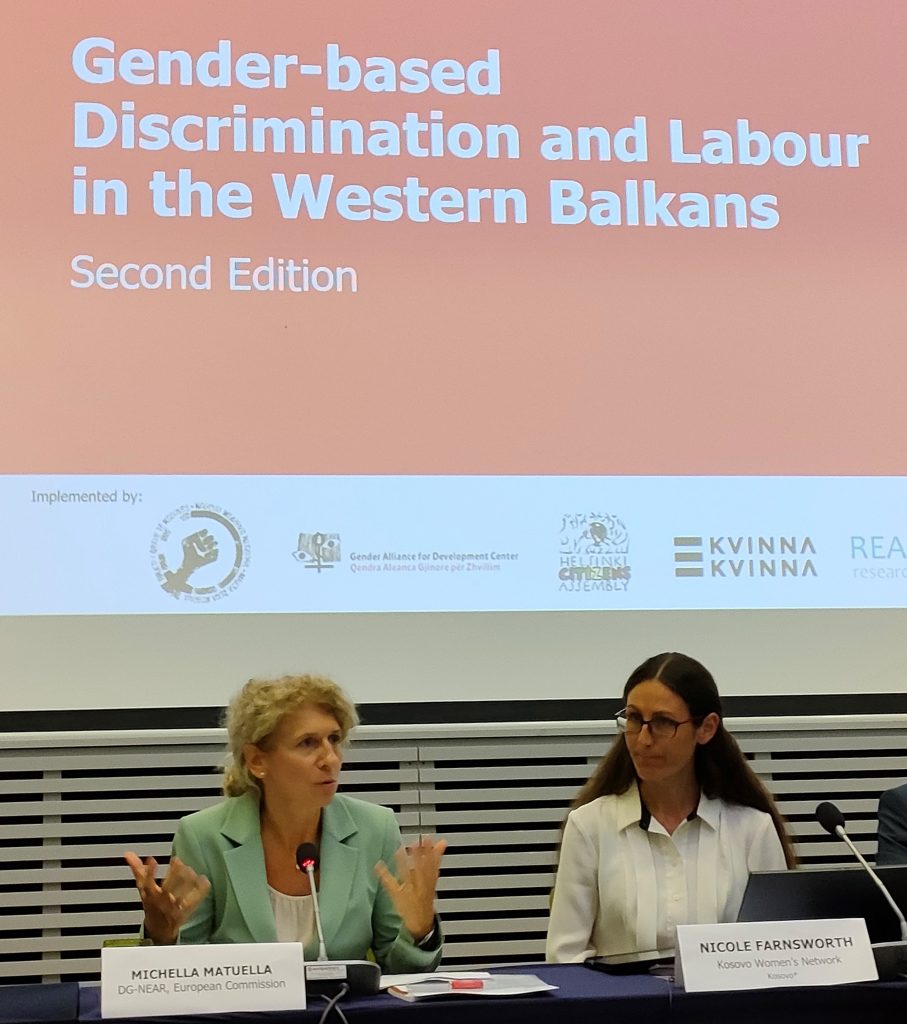 While, Olga Martin Gonzalez, Gender Equality Coordinator in the European Commission Directorate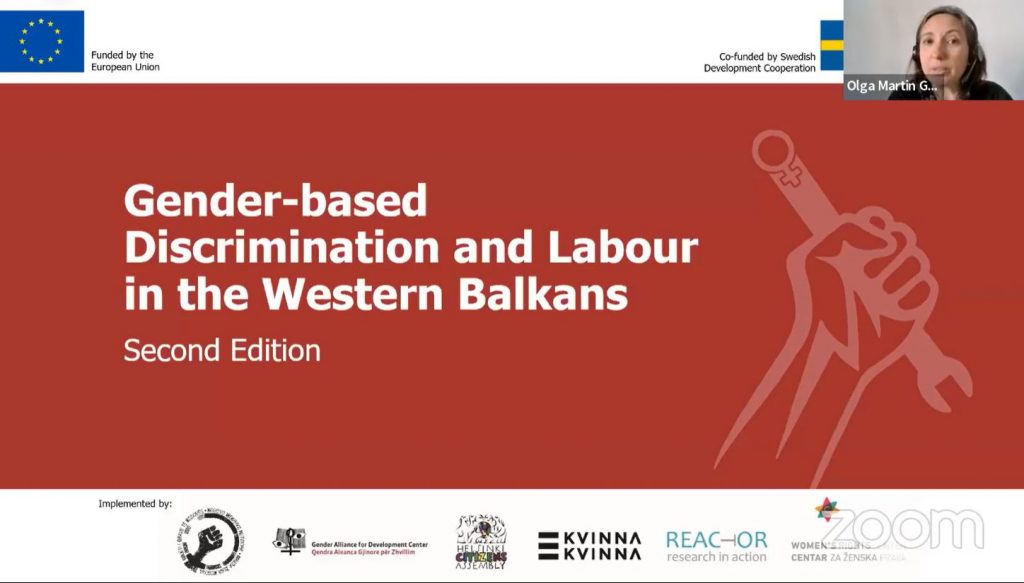 General for Neighbourhood and Enlargement Negotiations during the online launching event said:
"The continuous work of women's rights civil society organisations that are behind this regional research contributes to evidence-based policy interventions and provides useful recommendations to address gender-based discrimination in the WB, by governments, civil society, businesses, and the EU."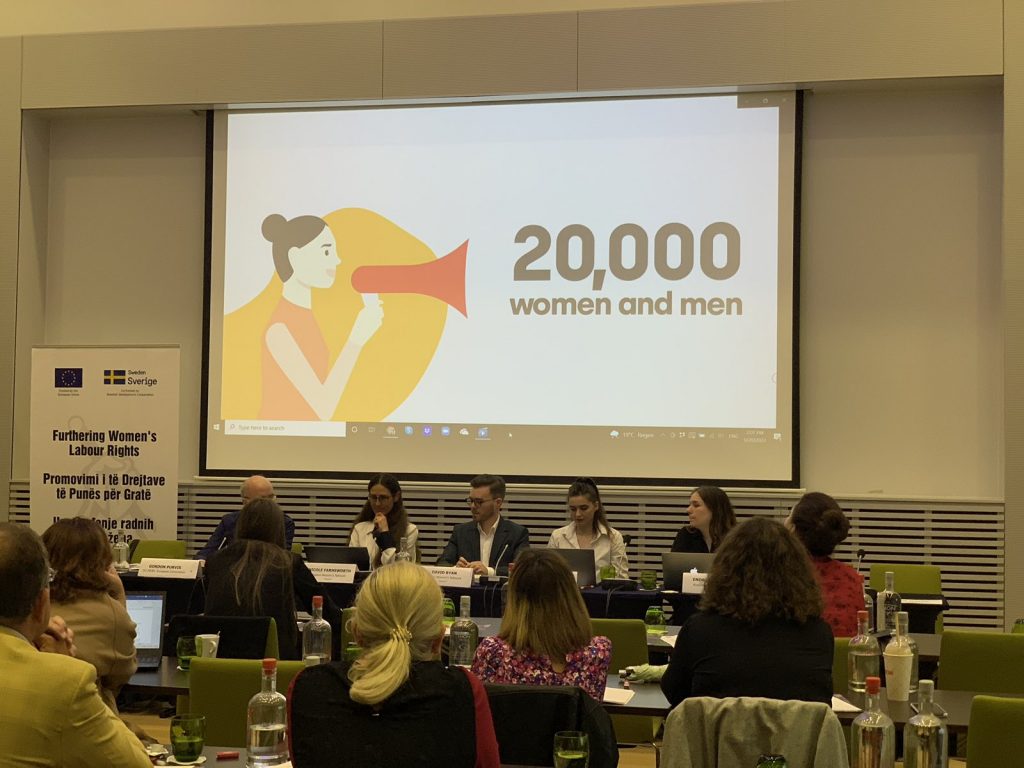 David JJ Ryan, Co-author; Vaska Leshoska, Researcher, Reactor-Research in Action and Endrita Banjska, Co-author, KWN during both launching events have presented the main findings and recommendations for the EU and relevant institutions.
The main findings are:
No government has harmonised fully its legal framework with the EU Work-Life Balance Directive. Various issues exist related to leave rights, particularly parental, paternity and carers' leave.​
While awareness that gender-based discrimination is illegal seems to have improved slightly, many people still do not know where and how to report it.
Labour-related gender-based discrimination has remained widespread in the WB, including in hiring, promotion, pay, contracts, pregnancy and maternity leave rights, paternity leave, and sexual harassment at work.
LGBTQI+ persons, women with disabilities, and women from minority ethnic groups report facing multiple, intersectional discrimination.
Few people report gender-based discrimination due to low awareness of how to report it; distrust in institutions; concern for stigmatisation; fear of job loss or other victimisation; and lengthy, often expensive justice or other proceedings.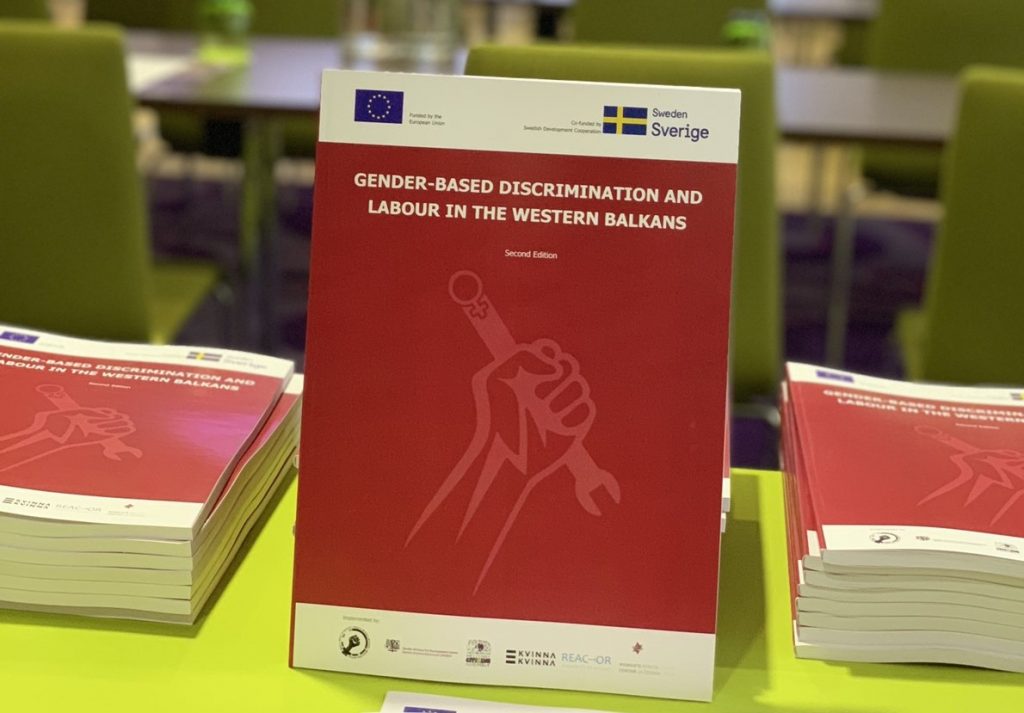 Key recommendations include:
For the EU
Require implementation of institutional reforms to address gender-based discrimination in labour as a condition of the EU accession process.​
Monitor reforms using a standardised approach, via country reports. ​
Encourage and support all countries in harmonising their legal frameworks with the EU Work-Life Balance Directive.
Continue consulting and supporting CSOs, especially WCSOs, in legal reforms, raising awareness, providing legal aid, and, thereby, monitoring institutional performance. ​
For Responsible Institutions​
Harmonise national legislation with the EU Work-Life Balance Directive, among other needed amendments outlined in the report.
Improve data collection, ensuring all data is disaggregated by gender of victim(s), of alleged perpetrator(s), location, and form of discrimination. Regularly publish data.​
Ensure obligatory, institutionalised training for responsible officials on gender equality and transforming gender norms; the legal framework on gender-based discrimination in labour and referrals​; and forms of gender-based discrimination, especially sexual harassment.
Better resource labour inspectors and justice providers.
Improve collaboration among institutions and with (W)CSOs, including in jointly raising awareness about how to report discrimination and in improving public trust in institutions.