As part of the Kosovo Women's Network (KWN)'s action "Strengthening Women's Participation in Politics", supported by the European Union (EU) Office in Kosovo, KWN together with the EU, organized a working lunch between Ambassador Tomas Szunyog, Head of the EU Office in Kosovo/EU Special Representative, EU officials and women representatives of civil society, on Tuesday, 29 November.
During a two hours meeting, women leaders had the opportunity to discuss and advocate for various important issues related to gender-based violence, women's economic empowerment, gender-responsive budgeting, the importance of supporting Serb women in rural areas, the challenges of women with disabilities and the importance of finding a common language for dialogue from Serbia and Kosovo for the well-being of citizens in line with UN Resolution 1325, among others.
While talking about the "16 Days of Activism Against Gender- Based Violence", Ambassador Szunyog said that the message against violence should be spread as much as possible. He pointed out that women in Kosovar society still face challenges regarding their involvement in politics, the economy, rule of law as well as in employment. Therefore, he was interested to know about the results of KWN's initiative "Strengthening Women's Participation in Politics" supported by the EU Office in Kosovo, as part of which this working lunch was organized.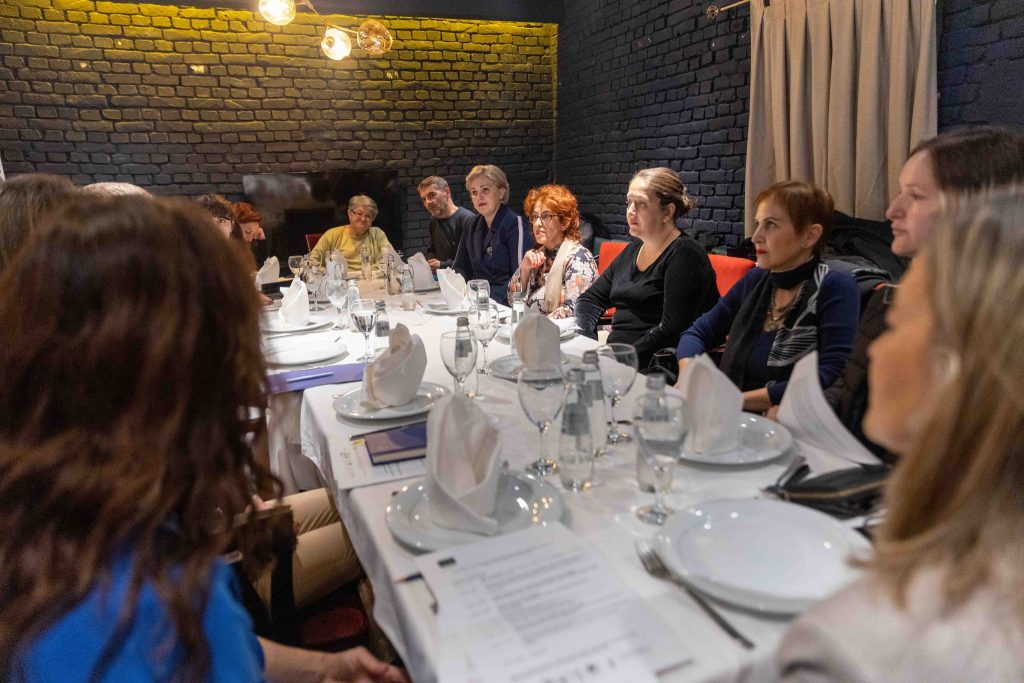 In this regard, Nermin Mahmuti, chair of the KWN Board / Executive Director of the Community Development Fund (CDF), said that with the EU support over the last four years, coupled with KWN's ongoing work to empower diverse women in prior years, advocacy and door to door campaigns to "Vote for more women in local/parliamentary elections" contributed to more women being elected in decision-making.
"We are thankful for the EU's support to empower Women's participation in politics and we hope that it will continue in the future beyond the project and that we can continue this dialogue, as our work is not project-based and we are committed to making long-term changes happen," Mahmuti said adding that KWN with its 190 member organizations, has in its strategy the program for empowering women in decision-making.
Valmira Rashiti, Project Coordinator and Legal Assistant, KWN, said that KWN is an example in the region for its focus on gender equality. Rashiti has stressed the support that the EU should give for the inclusion of women in the negotiations with Serbia, also highlighting the letter that KWN has sent to the EU envoy for dialogue, Miroslav Lajcak.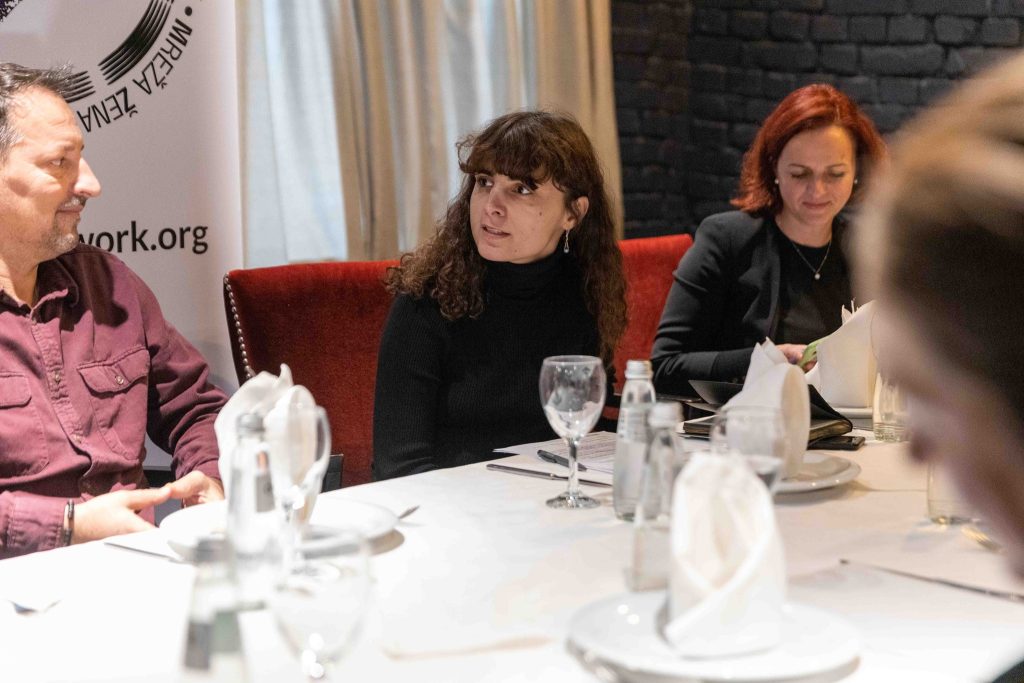 Ambassador Szunyog was interested to know whether the number of women's participation in politics at the local level has been increased.
Luljeta Demolli from the Kosovar Center for Gender Studies (KCSG) said that two women have been elected as mayors and the number of women who have won both at the local and central level without having to benefit from the quota gender, has been increased.
However, she said that women continue to face numerous obstacles, such as the lack of access to presenting their programs during the election campaign and the patriarchal mentality.
On the other hand, Resmije Rrahmani from the Organization of Persons with Muscular Dystrophy of Kosovo (OPMDK), at the same time an implementing partner of this EU-supported initiative, said that women with disabilities are the most marginalized people regardless of which community they belong to.
"I am 42 years old and so far, I have voted only twice. I demand my right to free movement," Rrahmani said encouraging the EU to extend its impact to the government of Kosovo and make them support the inclusion of women and girls with disabilities in decision-making and to advance the legal framework for the protection of persons with disabilities.
In the wake of the political situation created in the north after the withdrawal of Serb officials from Kosovo's institutions, Valbona Sadiku, Executive Director of CECD and Friends, said that there is a fear among both Albanian and Serb women and girls because of political influences in the northern part of Mitrovica. Therefore, she asked the EU to continue supporting organizations that aim to improve inter-ethnic relations in this area, stressing that "if women do not have funds, then communication also stops."
Nevenka Rikalo from the organization Ruka Ruci, also an implementing partner of this EU-supported initiative, has stressed that thanks to the dedication of KWN, her organization has managed to point out the problems of Serb women in the rural areas as well as to work in strengthening the capacities of women's organizations in the region of Fushë Kosova, Lipjan and Obiliq.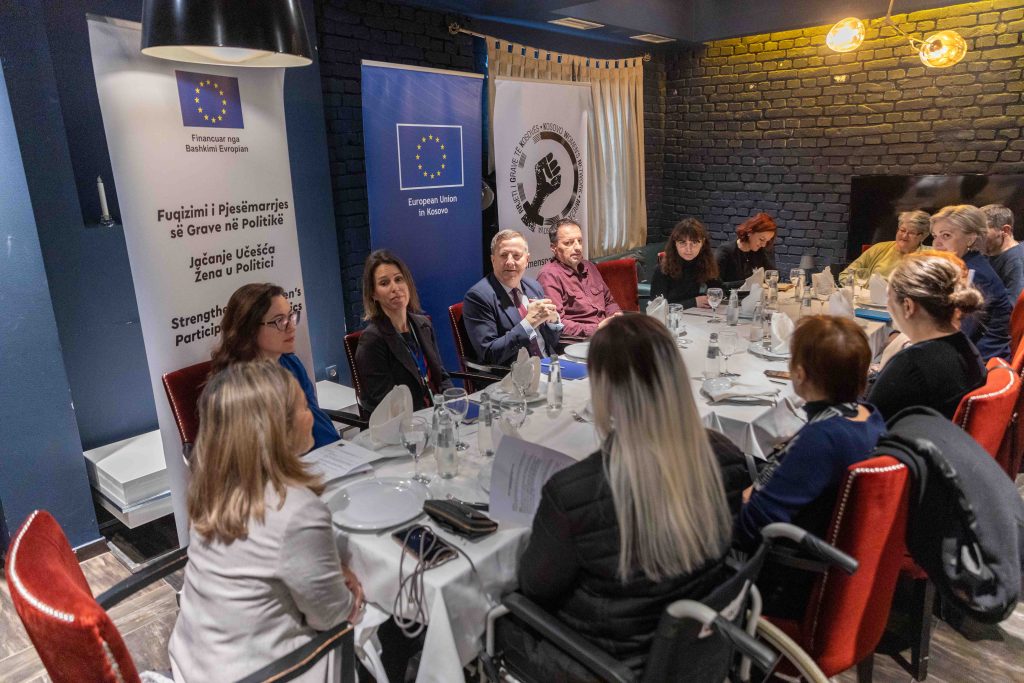 "We ask the EU office in Kosovo to continue supporting women's organizations, in particular women in rural areas, through different ways of financing, as they have done with the Action led by KWN to strengthen women's advocacy capacities."
Xhulieta Devolli, Project Manager of the Network of Organizations of Roma, Ashkali and Egyptian Women of Kosovo (NRAEWOK), said that more has to be done against early marriages of this community. She said that women of this community are still not aware of gender-based violence.
"Due to the circumstances and the impossibility to report they normalize violence. They don't know where to report the cases, there is institutional discrimination as they do not act in line with the laws," she said, adding that there is a lack of funds for the increase of awareness since their projects are short-term.
The gender-responsive budgeting and the importance to have a permanent budget for shelters have been discussed too.
After a very fruitful discussion, Ambassador Szunyog expressed the EU's commitment to taking into consideration all these important issues. KWN considers meetings as this essential for implementing the Women's Peace and Security (WPS) Agenda, and to ensuring the EU is aware of issues that women in Kosovo consider priorities, therefore KWN is thankful for this cooperation and will continue to advocate for this in the future.
This meeting has been supported by the European Union Office in Kosovo, through the initiative "Strengthening Women's Participation in Politics."
Through this initiative, we worked closely with women politicians at all levels, as well as with women interested in entering politics, by raising their capacities. Given the lack of proper representation, this initiative aimed to engage women with disabilities and women from minorities in existing networks, as well as in politics and decision-making. Inclusion and solidarity are the fundamental values ​​of this initiative to expand the women's movement in Kosovo.
Therefore, KWN together with the Organization of Muscular Dystrophy of Kosovo (OPDMK), Ruka Ruci (RR), and the European Association of Women Lawyers (EWLA), have managed to make many changes. From January 2019 to December 2022, among the many results achieved through this four-year support, towards the empowerment of various women even during the previous years, the continuous advocacy of the KWN, working in partnership and door campaigns "Vote for more women in local elections" directly contributed to more women being elected to decision-making positions. Below you can find some of the main achievements of this initiative:
In snap parliamentary elections in 2021, a woman candidate received the most votes of any political candidate in the history of Kosovo. 43 women were elected MPs, four more than in 2019, an increase from 32.5% to 35.8% in the last elections. Only nine women were elected due to the quota, whereas 34 won a seat with the popular vote. The Government of Kosovo has appointed two women as deputy prime ministers, and out of 15 ministries, five are led by women (an increase from 18.8% in the last elections to 33.3% in 2021). In the 2021 local elections, two Serbian women were elected as mayors and 364 women were elected to municipal assemblies. Two Ashkali and Egyptian women and a woman with different abilities were elected in municipal assemblies, showing improvement in their representation compared to prior years. 
KWN has also empowered women to engage in decision-making at various levels. 1,533 diverse women participated in politics and decision-making processes in this period with EU support.
1,577 citizens and politicians met and discussed sector-specific issues and obstacles they face in their regions.
1,406 diverse women activists attended trainings that increased their capacities and understanding of EU directives and the EU accession process.
KWN has enhanced the capacities of 921 women politicians and future women politicians through trainings.
And 210 volunteers engaged in supporting the "Vote for more Women" door-to-door campaign.