During four consecutive days (12,13,14 and 15 October), Kosovo Women's Network (KWN) and European Women Lawyers Association (EWLA) co-hosted the four-day workshop "Equal Rights and Gender Equality for women and men in Kosovo".
The Lobby for Gender Equality (Lobby) and Coalition for Equality (CfE), both KWN member organisations, as well as KWN staff, trained with experts Katharina Miller, President of EWLA, Sylvia Cleff Le Divellec and Dace L. Luters-Thümmel.
These workshops were highly appreciated by KWN Executive Director, Igballe Rogova.
"We wanted to meet in person, yet unfortunately we are in this situation due to the COVID-19 pandemic and we are holding these workshops via online platform Zoom. However, we are lucky that we have EWLA experts today. EU Gender Equality Acquis is a very important topic that needs to be well-understood by all of us, and to be used for furthering women's participation in several sectors." Rogova says.
Moreover, EWLA experts trained the KWN staff on about sexual harassment, discrimination criteria and case law.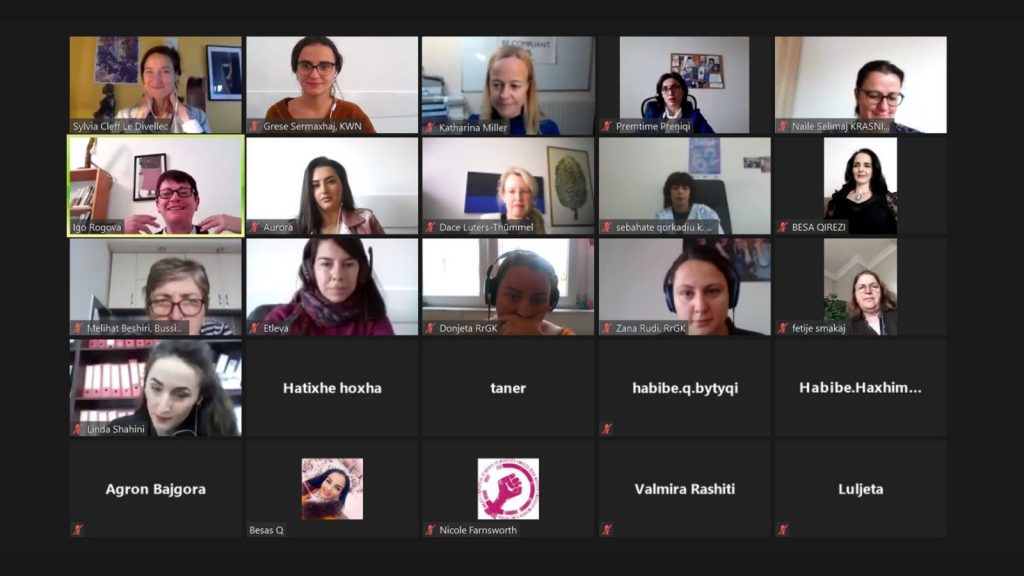 Etleva Malushaj, Project Coordinator at KWN, said that this workshop was particularly important because it helps to disseminate more in-depth information about Kosovo's EU accession process to women and civil society organizations.

"It helps highlight women's roles and opportunities to increase their involvement in this process. Women's participation remains essential and contributes to further integrating gender mainstreaming in vital documents related to EU accession process."
KWN member organizations representatives discussed about how to be an advocate for change and about EU accession processes, particularly from a gender perspective.
They shared their experiences and future plans regarding the implementation of the EU Gender Equality Acquis in Kosovo's context.
EWLA representative Katharina Miller says:
"On behalf of EWLA I would like to stress that we are very proud and happy to be cooperating with KWN. We are very impressed by the strong commitment and strength of the participants of the workshops to make Kosovo a sustainable and just place for a greener, healthier and more sustainable future."
Sylvia Cleff le Divellec adds, "It is a very interesting and inspiring experience to find solutions together to promote and implement gender equality in Kosovo".
These workshops were held under the initiative "Strengthening Women's Participation in Politics", supported by the European Union (EU) Office in Kosovo.
READ ALSO:
EU, KWN Strong Allies in Promoting Gender Equality in Kosovo
Advocacy Strategy for Women and Girls with Disabilities Developed by OPDMK
Ruka Ruci briefs women of Uglarë to the "Strengthening Women's Participation in Politics"