Kosovo, as well as the vast majority of the world is weathering the consequences of COVID-19 pandemic.  While the workflow of civil society organizations has changed, the goal and endeavours remain the same.
The Kosovo Women's Network (KWN) has continued their mission of working for gender equity, despite being unable to implement some activities and advocacy that had been previously planned..
In response to the pandemic, KWN drafted a policy brief, identifying the different needs of women and men during quarantine and making policy suggestions to various ministries such as the Ministry of Finance and the Ministry of Health.
Read HERE for the full Policy Brief.
During this time, the KWN staff has contacted all member organizations to understand their concerns and identify their needs. KWN members expressed their gratitude by saying thanking KWN for their ongoing support.
"Thank you very much for your care and support, and for representing us." said Sylbije Sahiti of Our Paradise, a local NGO (ALB: Our Paradise).

"Thank you very much for showing interest and for always being the first to address our needs." said Shpresa Sejdiu of Educational Centre for Children with Special Needs (ALB: Qendra Edukative për Fëmijët me Nevojat e Veçanta).
Knowing that the situation of women who suffer from domestic violence only worsens during the pandemic, KWN has advocated for Kosovo's shelters and has ensured that they get the urgent things they need.
KWN collaborated with the Security and Gender Group (SGG), to put together a campaign against domestic violence. The group issued a statement to the media urging institutions to protect people experiencing domestic violence, while urging citizens to report it.
KWN has also informed citizens about workers' rights during the pandemic, through various social media campaigns.
Recently, the KWN staff held a virtual meeting with the European Association of Women Lawyers (EWLA) to discuss further cooperation with the four-year initiative "Strengthening Women's Participation in Politics".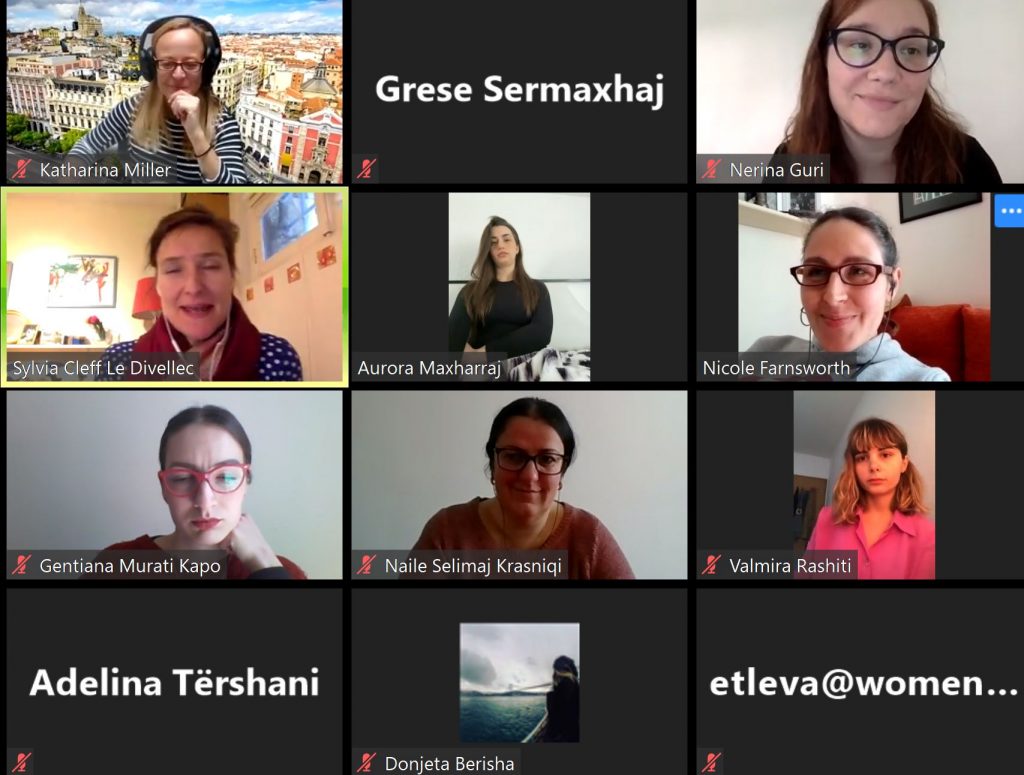 Find below some of KWN media coverage during this time (Available in Albanian only).
https://kallxo.com/lajm/rrgk-i-propozon-qeverise-masat-per-adresimin-e-covid-19-nga-perspektiva-gjinore/
https://kallxo.com/gjate/analize/grate-dhe-thirrjet-e-humbura-per-mbrojtje-nga-dhuna-ne-familje/
https://ww.facebook.com/zeriamerikes/videos/1104147106612668/UzpfSTEyODEzODgëMzkxMzE0NToyOTc5NDA1MDY4Nzg2NDkë/?eid=ARDPoËfqCufgrvk_Ckel0CYId8dRfP3VëK87i6cVMIgTc2o0TtHo_4M_KkNKoMK-hc8NpUPV3oztjTKa
https://www.kosovalive360.com/rrgk-pa-drejtesi-nuk-ka-paqe/
https://ww.kosovalive360.com/edhe-me-ligjnder-me-te-avancuaritbarazia-gjinore-ngec-ne-praktike/.