On November 18, The Organization of Persons with Muscular Dystrophy of Kosovo (OPDMK), member organization of the Kosovo Women's Network (KWN), held a one-day training "Communication capacity building for women who want to be involved in politics. "Ten participating women discussed their public appearances, the importance of participation in political and decision-making processes, and the importance of using social networks as a means of communication.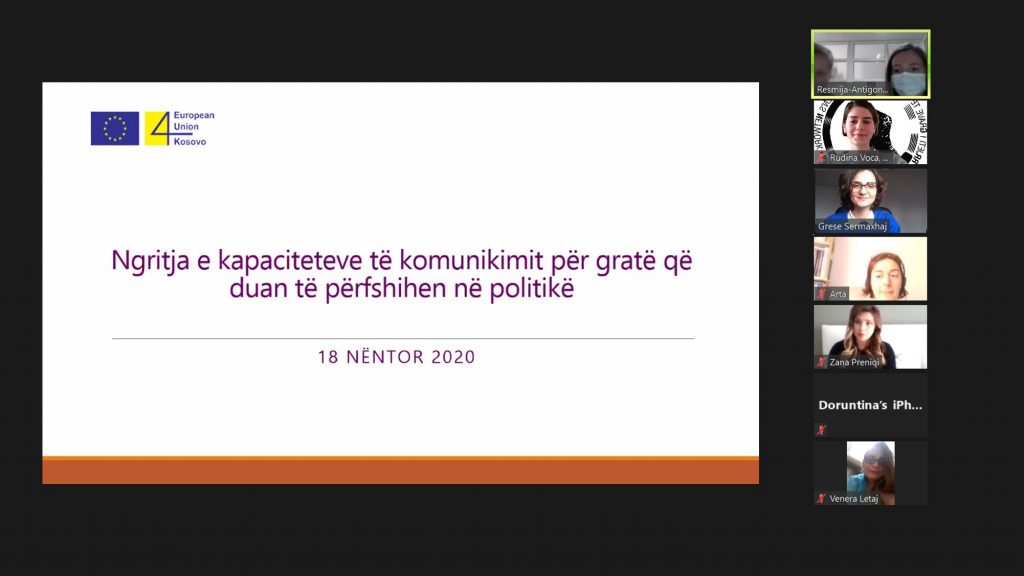 The Executive Director of OPDMK, Antigona Shestan, spoke about the importance of this training for women and girls and disabilities.
"Online training is much more accessible for people with disabilities, due to their physical condition, as well as because people with disabilities differ in needs due to different categories. In this way, our participants are more secure and independent when they do not need assistance," she said.
Meanwhile, Resmije Rrahmani, Project Coordinator, says that trainings like this are essential to enable these women and girls to get the deserved place in society.
"Online trainings, events, conferences and meetings certainly facilitate the participation of women with disabilities. "I think that internet access is a good tool for the future because of the greater inclusion for women with disabilities who should be part of an equal society," said Rrahmani.
"Trainings like this are very important for us and for our member organizations. Together we discussed the experiences and challenges faced by women and girls who want to be part of the political process. Above all, we shared ideas on how we can overcome these challenges through the best ways of communicating with the public ", said Gresë Sermaxhaj, Public Relations Coordinator, KWN.
This activity was held in the framework of the initiative "Strengthening Women's Participation in Politics", supported by the European Union (EU) Office in Kosovo.
You can read more about this initiative HERE.