Women from Krusha Vogel were informed on the hormonal and emotional changes experienced during menopause. 80 women who attended these information sessions have improved their understanding on what women face during this time.
The Association of Women Farmers "Krusha e Vogel", also organized activities on other women's health topics, such as: breast cancer, breast self-examination, cervical cancer, climax, high blood pressure as well as diabetes.
"Women's Support in Menopause" is an initiative that started in order to make women of this village more aware of the importance of health care during menopause. Krusha Vogel does not currently have access to information compared to their urban peers.
The women participating the sessions highly appreciated this initiative. Together, they discussed the difficulties they faced, 45-year-old L.SH, stated:
"When I first experienced the signs of menopause, it was very stressful. I was reluctant to see a doctor because I was ashamed to talk about it. These lectures have been very professional, and now we are much more relieved. We have also set appointments for gynecological examinations", she said, emphasizing that she is very thankful for "Krusha e Vogël" and Kosovo Women's Network for this opportunity.

"I have benefited a lot from this project, the topics that we discussed are very helpful for my personal care. I also understood the importance of regular check-ups in order to prevent various diseases," said another participant. A total of 45 women attending these sessions went through gynecological examinations.
In addition to sessions with women, the Association of Women Farmers "Krusha e Vogël" has held meetings with Nexhip Berisha, Director of Health in Prizren.They advocated for the health department to draft a document on regular lectures in rural areas in the coming year. As a result of the meeting, an agreement was reached to hold sessions with women at the Family Medicine Center in Prizren.Agreements were also reached with Hanife Hoxha, a professional lecturer, to hold lectures about cervical cancer in the rural areas free of charge.
"Symptoms do not appear in the early stages of cervical cancer, women might face different signs such as: pain after sexual intercourse, bleeding after menopause, rapid weight loss, and recurrence of the cycle only shortly after it has ended." Hoxha explained to those present at a lecture held in February.
During the implementation of this initiative, an advocacy meeting was also held with Myvexhele Zhuri from the Office for Gender Equality. They lobbied for more financial support in the health field and to gain access to grants from the local government.
The Association of Women Farmers "Krusha e Vogël", over the past eight months, have contributed to the positive changes that women can make in the community. They have increased solidarity between women's rights activists to come together as a women's movement within the implementation of the KWN Strategy 2019-2022.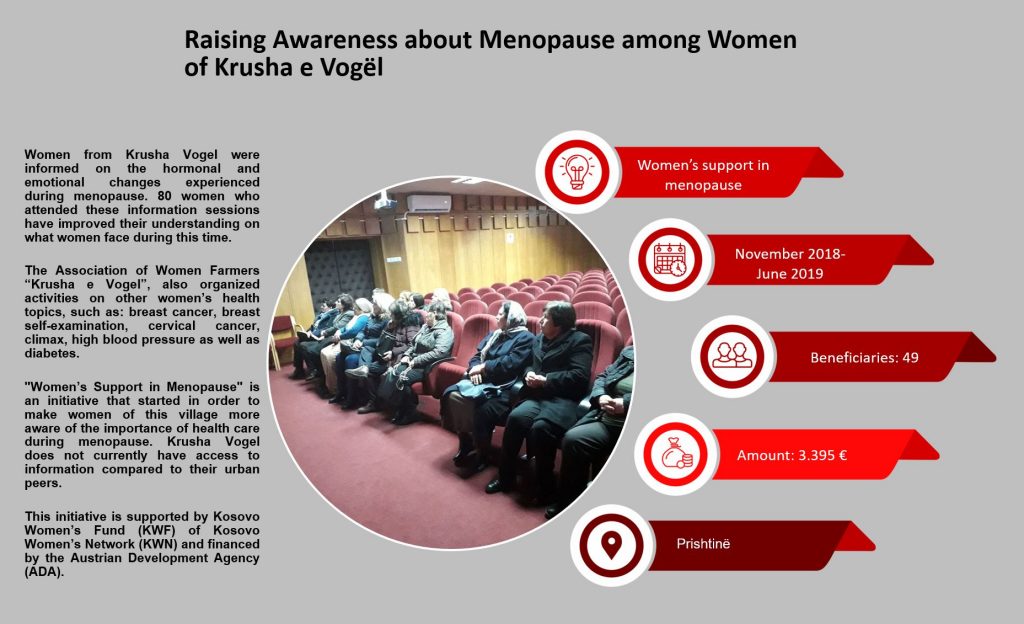 *****
Related articles:
Women of Krusha e Vogël Discuss About Cervical Cancer 
Association of Women Farmers "Krusha e Vogel" economically empowers girls in rural areas
*****