Photo Credits: KFOR
On 7 October, on the eve of the 20th Anniversary of the United Nations Security Council 1325 for Women, Peace and Security, KFOR hosted a conference where several speakers discussed the implementation of this resolution in Kosovo with focus on security, inclusion and partnership.
Key speakers, who have been at the forefront in the implementation of UNSCR 1325 in Kosovo, shared their work and experience from the past two decades.
Igballe Rogova, Executive Director of Kosovo Women's Network (KWN), shared the work of KWN and other women's rights activists who have continuously been fighting for gender equity, peace and security in her keynote address.
"Security begins at home; therefore, we have to provide security for women at home. There is no peace without justice!" said Rogova, while adding that justice was never served for survivors of sexual violence during the war, the victims of the subsequent massacres, nor for the families of missing persons.
Rogova underlined the importance of cooperation between women civil society organizations (WCSOs) at both the local and regional level. She also stated her appreciation for donor support given to WCSOs throughout the years.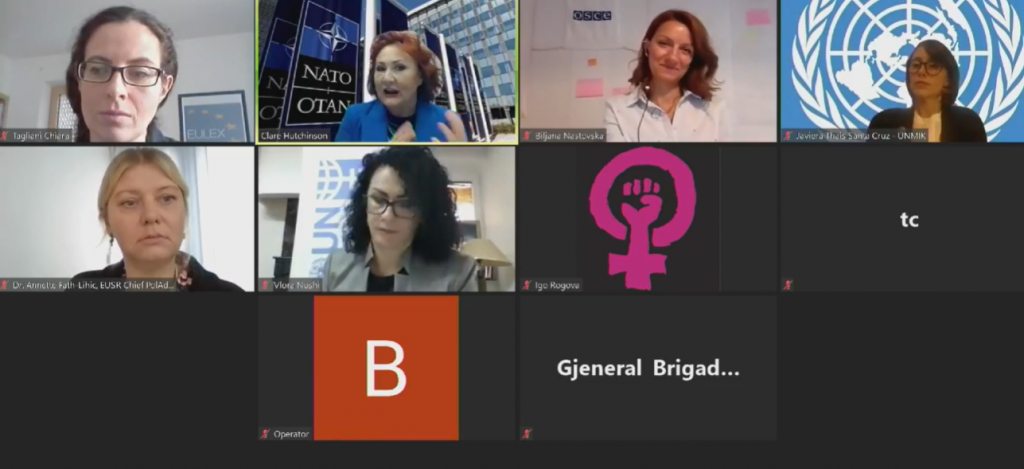 Former President of Kosovo, Atifete Jahjaga, shared her experience as the first woman president of the country and her work toward empowering women and youth, through the Jahjaga Foundation platform.
"I decided to use the authority that I built throughout my public service career, especially in the office of the President".
Further, the first woman Speaker of the Assembly of Kosovo, Vjosa Osmani, reaffirmed the importance of such coordination between institutions and women's organizations.
"Everything that has been achieved is a result of a cooperation model, involving the Parliament, the Agency for Gender Equality, International Organizations, Civil Society Organizations and the media", Osmani added.
She noted that in accordance with Resolution 1325, women should be directly and fully involved in the Dialogue with Serbia as well as constantly consulted during the process.
Edi Gusia, director of the Agency for Gender Equality (AGE), considers AGE's drafting of public policies as working platforms for gender equality in Kosovo as one of its main achievements.
"The landmark decision of the first Action Plan for the implementation of Resolution 1325 (2013-2015), was the amendment of the law for the civil victims and veterans. It was in this amendment where survivors of sexual violence became part of the law", Gusia said.
Other speakers at this conference were Clare Hutchinson, NATO Secretary General Special Representative for Women, Peace and Security; Major General Michele RISI, Commander of KFOR; Vlora-Tuzi Nushi, Head of UN Women in Kosovo; Chiara Tagliani, Gender Advisor at EULEX; Javiera Thais Santa Cruz, Gender Advisor UN Mission in Kosovo; Annette M. FATH-LIHIC, Political Advisor EU Special Representative in Kosovo, Safete Gacaferri, Executive Director of NGO Jeta; Adriana HODZIC, Principal Executive Officer, Municipality of North Mitrovica; Brigadier General Irfete SPAHIU, KSF;
Resolution 1325 was adopted unanimously on 31 October 2000 by the UNSCR, as a milestone in recognizing women's unique role in international peace and security.
Read also:1325 Facts and Fables