Four months of new learnings, good experiences and cultural exchange.
This is, how Taya Kohnen, a 30-year-old public health professional from Colorado, United Stations of America (USA) would describe her time spent working at Kosovo Women's Network (KWN), between August and December of 2019.
She finished a Master's in Public Health Systems, Management and Policy at the University of Colorado Denver in 2018. Prior to coming to Kosovo, she worked at a large family medicine clinic in Northern Colorado. After five years at this job she decided she was ready to pursue public health opportunities abroad.
Kohnen recalls meeting with KWN's Program Director, Nicole Farnsworth, who brought her onto the KWN team to help with funding research.
"I heard a lot of good things about KWN from friends and colleagues so I met with Nicole as part of a networking effort on my part.. She wanted someone to help interview local funders, code qualitative research and draft the final research report." .
Between August and November, Kohnen  investigated funding trends for women's rights in the Western Balkans. In mid-November, Research gave way to co-authoring the final report, which is expected to be released in Brussels in 2020. She also helped with a UNICEF proposal for the training of local obstetric clinicians in gender mainstreaming, as well as with the editing of various press releases and articles for KWN.
She highlighted, "It was great to work with an organization that has been so effective in addressing gender-specific concerns in the region like gender-based violence and discrimination in the workplace."
She went further, appreciating the hospitality she found in Kosovo and at KWN
"Everyone was approachable friendly.  Our common goal of empowering women and reducing inequalities made it easy to negotiate the occasional language gap. I hope to return to Kosovo and KWN in the future."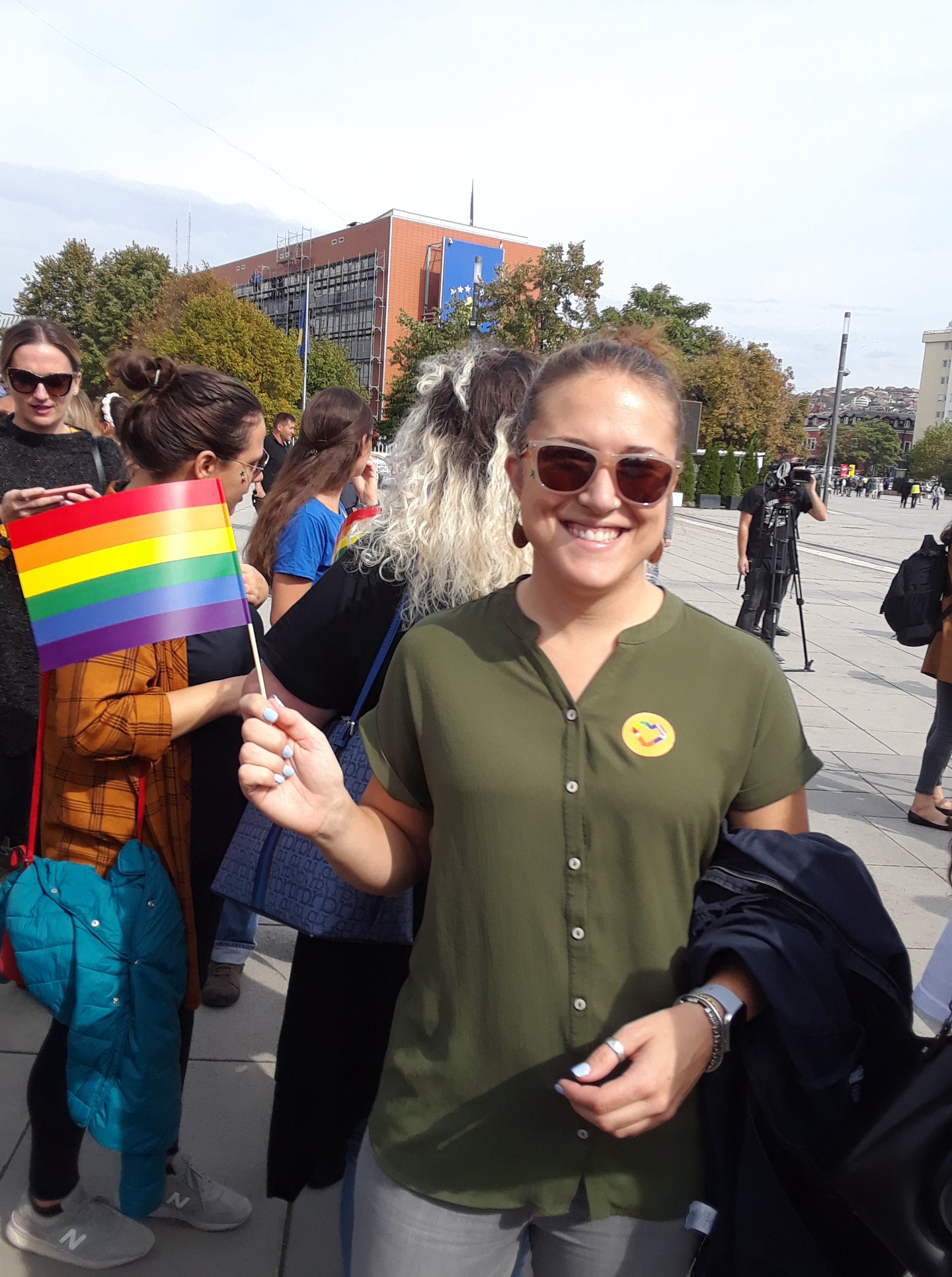 Photo: Kohnen during Pride Parade, Prishtinë 2019
Kohnen especially valued working with Nerina Guri, Researcher / Project Coordinator at KWN, and the appreciation is mutual.
 "Working with Taya has been one of the best experiences, given her high professionalism, attention to details, organizing and researching skills. More than anything I loved her positive approach to things and her interest to learn new things, being these in our work or getting to know new things like our language, society and culture.", says Guri.
While Kohnen is currently headed back to the United States, before leaving she thanked KWN saying, "KWN is one of the warmest and most empowering communities I've ever been a part of. I'm grateful for having had the opportunity to join the team in their mission to strengthen the feminist movement and improve human rights."