Kosovo Women's Network (KWN) has once again raised its voice against violence of women in Kosovo.
"Do not encourage the perpetrators", "No more excuses", "How many more times you want to kill us", are some of the slogans that KWN staff held in their hands in the action organized today in front of the Prosecution in Prishtina. They wanted to raise their voice against violence and murder of women and against the short sentences that institutions are giving on murderers of women. They made sure to keep their physical distance while wearing masks and limiting the number of participants.
"KWN is holding a gathering limited to five participants to express outrage over the recent murders of women. Knowing that the decision is taken by the Court to punish the perpetrators of criminal offenses, we have gathered before the Prosecution to request that the qualification of acts of domestic violence or attempted murder be decided as they are, as this affects the decisions of Judge", said Erza Kurti, Gender Based Violence Coordinator, KWN.
"We ask to file a complaint to the Court, that the case of Pjetër Ndrecaj returns on trial, because the reduction of his sentence is unacceptable", added Kurti to the journalists.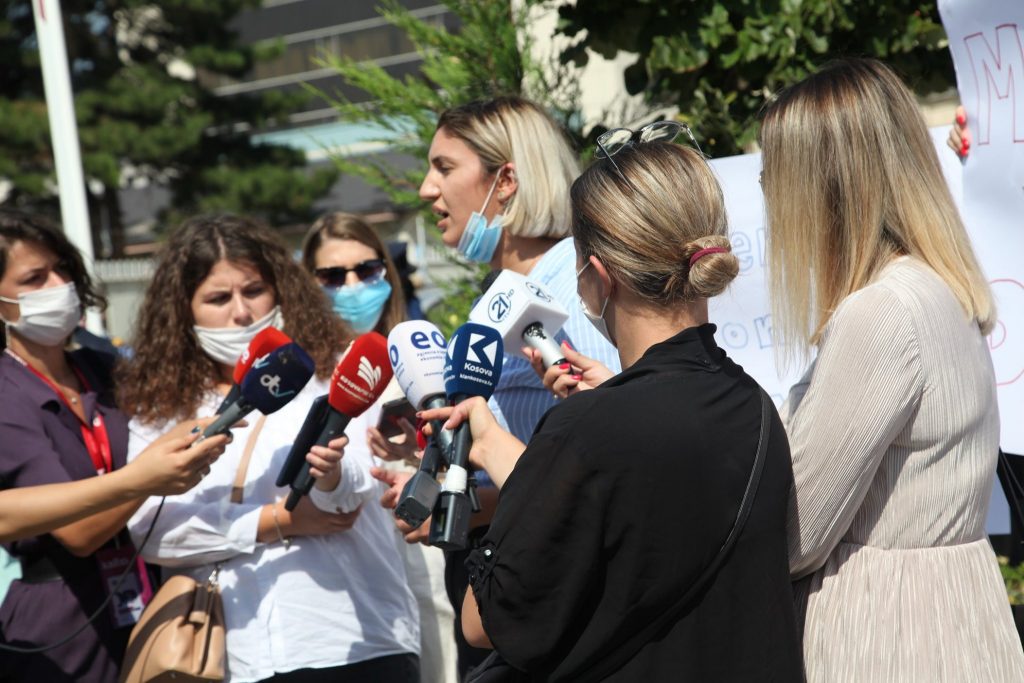 "Life without Gender-Based Violence" remains one of KWN's key programs. Every day we engage both in activism and through lobbying in institutions so that women and girls can live a life free from violence, including raising awareness and attention among officials and citizens, in tackling violence-based violence. including domestic violence, rape and sexual harassment.
Read HERE KWN's response to the reduction of the sentence for Pjetër Ndrecaj.
HERE you can watch the live broadcast of this KWN action.
If you know someone who has experienced violence and has not received proper institutional treatment, please feel free to contact us.