She came to Kosovo 25 years ago, and since then, Kosovo has occupied a special place in her heart. Elisabeth Kaestli, author, and women's rights activist, is a powerful woman who, through her pen, brought stories that focus on women, the importance of advancing their rights, and the great role that a powerful woman plays in society. 
She is visiting Kosovo these days to mark the 25th anniversary of her arrival in Kosovo, together with the women activists she met in 1998, but also with other friends she has made during the different periods in which she has stayed in Kosovo.
"For the first time, I came to Kosovo in November 1998 when I was working as a journalist for a Swiss press office specialised in dealing with refugees. At that time, I had been in Bosnia, Croatia, and then came to Kosovo. The war had just begun here. It was very impressive for me to be in such a situation. I was traveling in Kosovo with the convoy (of the Humanitarian Association) "Mother Teresa", and at that time, I met Igballe [Igo] Rogova, Latife Neziri, and other women who helped refugees."
In addition to the aggravated situation due to the war, Elisabeth was also interested in the lives of women in Kosovo, particularly those whose husbands, fathers and brothers  were in exile and who themselves took care of supporting the family. 
"I realised that there are many women in Kosovo whose husbands worked in Switzerland. I wanted to analyse the lives of these women," explained the former journalist, who decided to write the book Women in Kosovo."
As we spoke about her experiences and efforts to advance the rights of women and girls in Switzerland and Kosovo, she told an interesting story.
"In 1998, I met a Swiss colleague in Kosovo, who told me "this patriarchy in Kosovo will never change". I told him it will change even faster than in Switzerland. And indeed, [it] was proven, and he was wrong. I understood that the fight for women''s rights in Kosovo was the same as what we had done in Switzerland when I was young. But, I think that the rights were achieved here faster than there," said Elisabeth. 
In her accounts of her time spent in Kosovo decades ago, Elisabeth recalled the first visit she made to Has region of Kosovo together with the Association for Women and Girls' Education "Motrat Qiriazi".
"I remember when I came for the first time after the war in 1999, a women''s center was opened in the region of Has. I went there with Igo, and we saw that the hillside was full not only of women but also of men. We in Switzerland had not invited men. It seemed funny to me, but Igo told me, ''If the men support us, then we will work freely with the women'.' I realised that this was a very wise step and a very good strategy," she said.
While we were drinking coffee in one of Pristina, the capital''s, restaurants, I asked her if the red clothes she was wearing were related to the Kosovo Women''s Network (KWN) campaign, to wear red shoes, or something red, every Tuesday to show solidarity among women and girls.
"Yes, exactly. Yesterday I was at KWN and found out about this initiative; that''s why I wore red because I think that solidarity among women is very important. We should support each other, not criticize, because in this way, we strengthen the role of women in society. If we don't support each other, men won't either. So, we have to start," said Elisabeth, who was among the first people to become an individual supporter of KWN. Moreover, she has promoted KWN widely and raised funds for KWN's work.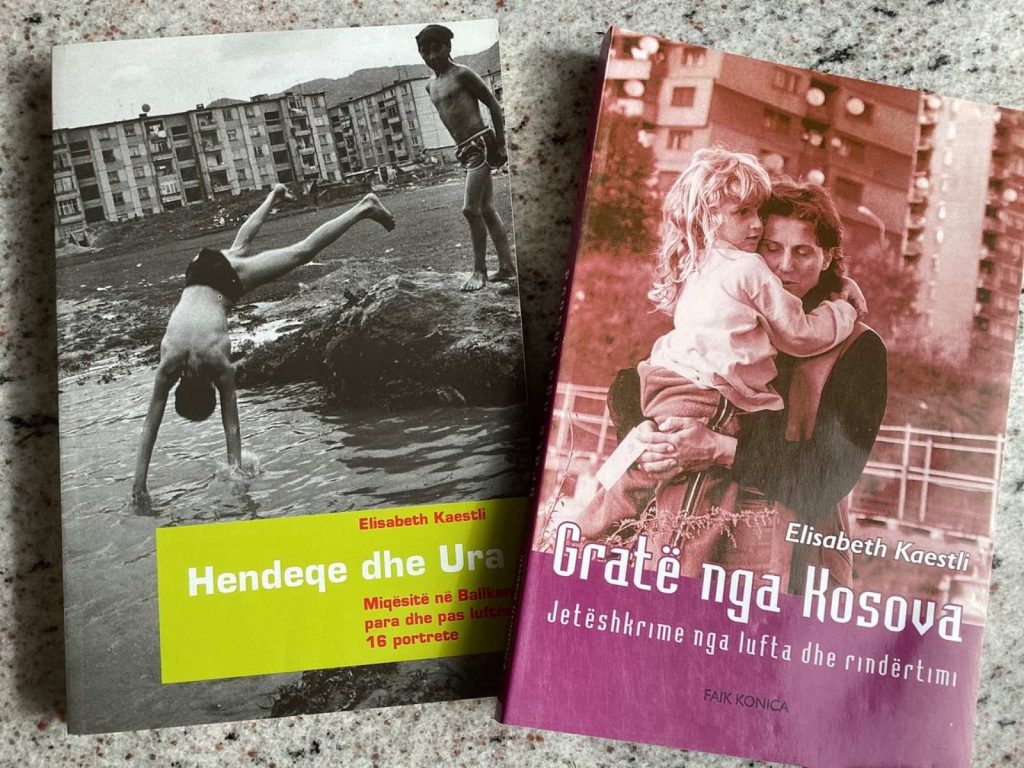 Elisabeth also has written other books about Kosovo: "Seven brothers, seven sisters – a Kosovar family around the world" and "Ditches and Bridges: Friendships in the Balkans Before and After the Wars – Sixteen Portraits." She wrote the latter after hearing a moving story about two friends of two different ethnicities. When the war broke out, they were forced to take different sides, becoming sworn enemies. However, years later, when the conflict was over, one of their mutual friends suggested they meet again. They hesitated at first, but in the end, they agreed. When they met, they realised they had more in common than they thought and rekindled their friendship. 
Elisabeth heard countless stories like this and realised that the reality of life is much more complex than the black and white model often portrayed in the media. Through her storytelling, Elisabeth was able to connect people across ethnic lines and bring them together. She showed that despite conflicts and disagreements, there is still hope for peace and reconciliation.
KWN expresses our deep gratitude for Elisabeth Kaestli's many years of support to women in Kosovo, and to KWN.