During a job interview, I was asked, among other things, if my marriage to my husband is stable and if I'm in love, because they don't want to hire someone who will be unfulfilled and under stress. I was asked a lot of things, but this remains the biggest stupidity I've ever heard." – Workshop participant
Employee rights and information on where discrimination at work should be reported is rarely discussed in the Western Balkans. Nor are there employee manuals through which workers can be better informed.
Women, in particular, suffer significantly from this lack of information. They are often put in an unfavourable position, such as during job interviews when employers ask sexist questions about their marriage and parenthood plans.
"Unfortunately, that's the situation in our country; if you politely refuse to answer the question and inform them that it's not legal to ask these things, you can be sure that you're automatically disqualified from that job position," said M.T., a participant in a workshop organized by ROZA organization.
In response to comments such as these, ROZA created an informational campaign on social media. The campaign sought to inform youth about discrimination and labour rights. It targeted young people ages 18 to 35 and involved several posters and a call for action. ROZA created a manual called "What Awaits Me in the Labour Market – A Short Guideline for Youth". The campaign had 504 reactions, 52 comments and 87 shares on Facebook.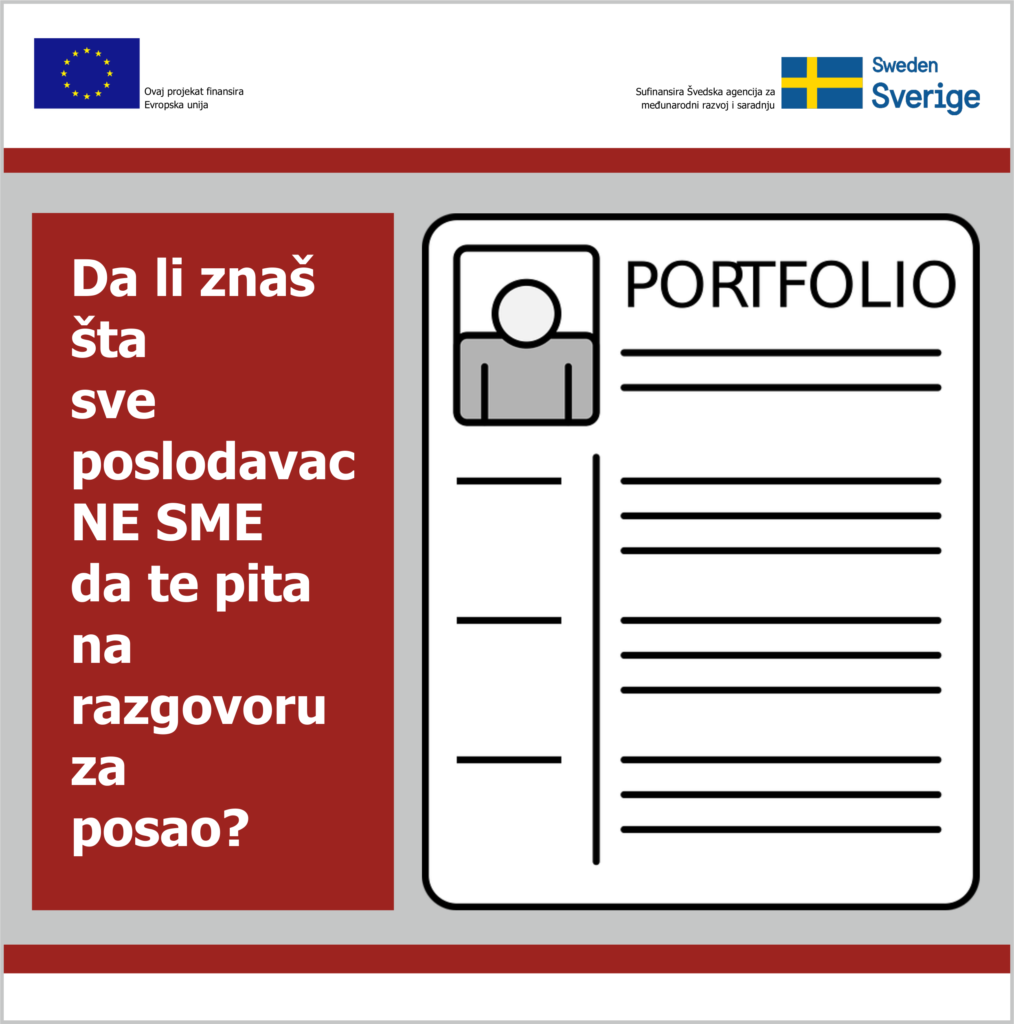 Then, ROZA held six workshops to inform women of their rights during job interviews. These targeted young women who were finishing high school and planned to enter the workforce shortly.
These workshops were held in September through December 2020. Due to the COVID-19 pandemic and social distancing measures, three workshops were held in schools, while the others took place online. In total, 57 young women participated. Questionnaires were distributed before and after workshops to determine the level of knowledge gained from this experience. Overall, 60% of participants demonstrated that they improved their knowledge. Thus, such workshops seem extremely effective for informing young women about their labour rights.
During this campaign, relevant trade unions, organizations and institutions also received more information about the situation, the obstacles faced by young people entering the labour market, how widespread discrimination is and potential solutions.
As result of this campaign, ROZA has expanded its audience on Facebook, from 3,500 likes in the beginning to 5,519 likes. The total reach of the campaign was 160,670, and there were 544,817 impressions. This shows that people in the region are interested in this topic and public discussion on labour rights are very much needed.
This activity was part of ROZA's action, supported by Kvinna till Kvinna, the Kosovo Women's Network and their partners through the "Furthering Women's Labour Rights" Action. This Action is financed by the European Union and co-funded by Swedish International Development Cooperation (Sida). The content of this activity/post is solely the responsibility of ROZA and does not necessarily reflect the views of the European Union or Sida.