The Kosovo Women's Network (KWN) launched on Saturday (22 October) our new book 1325 Facts & Fables during the Women, Peace and Security Forum, an initiative of the President of the Republic of Kosovo, H.E. Dr. Vjosa Osmani Sadriu.
The book includes "facts", that is, statistics, data, and names, and "fables": stories of how people perceive the implementation of the Resolution from 2000 to 2020. As KWN Executive Director Igballe Rogova summarised when KWN first began writing this book in 2011:
"I want this publication to be seen not as a report, but more like something that makes you smile and say, 'How can that happen?' And I want to bring attention to the fact that 1325 is important, not just its sister resolutions."

The book's stories walk readers through the many challenges, successes and victories that women activists have faced in their struggles, calling for the UN, EU, NATO, and Kosovo officials to implement the Resolution. The stories will surprise you, make you smile, cry, or become angry… We also hope that they will inspire.
Launching this book during the President's prestigious Forum offers us the opportunity to share stories from Kosovo with leaders, activists and actors from around the world. We hope our stories and experiences will support others in furthering the Resolution's implementation in conflict and post-conflict areas elsewhere.
Although there are several "characters" in the book, this launching event involved only a few voices from local women's rights activists, who shared their stories from the book.
Feride Rushiti, Executive Director of the Kosovo Rehabilitation Centre for Torture Victims (KRCT), also recalled the initial struggle to ensure funding for survivors:
" The news went viral that day, making the day unforgettable!… I remember a phone call I received from one of the survivors. When I picked up the phone, the first thing I heard was music in the background. … for the first time, she had that much money in her hands. "I left those big bags of flour in the middle of the living room, to let everyone know that I can also contribute for our home," she said, literally. It was very emotional! The women's spirit was kept alive by the organisations, but the recognition from institutions was very important because their status in the family changes, as they become empowered and supported.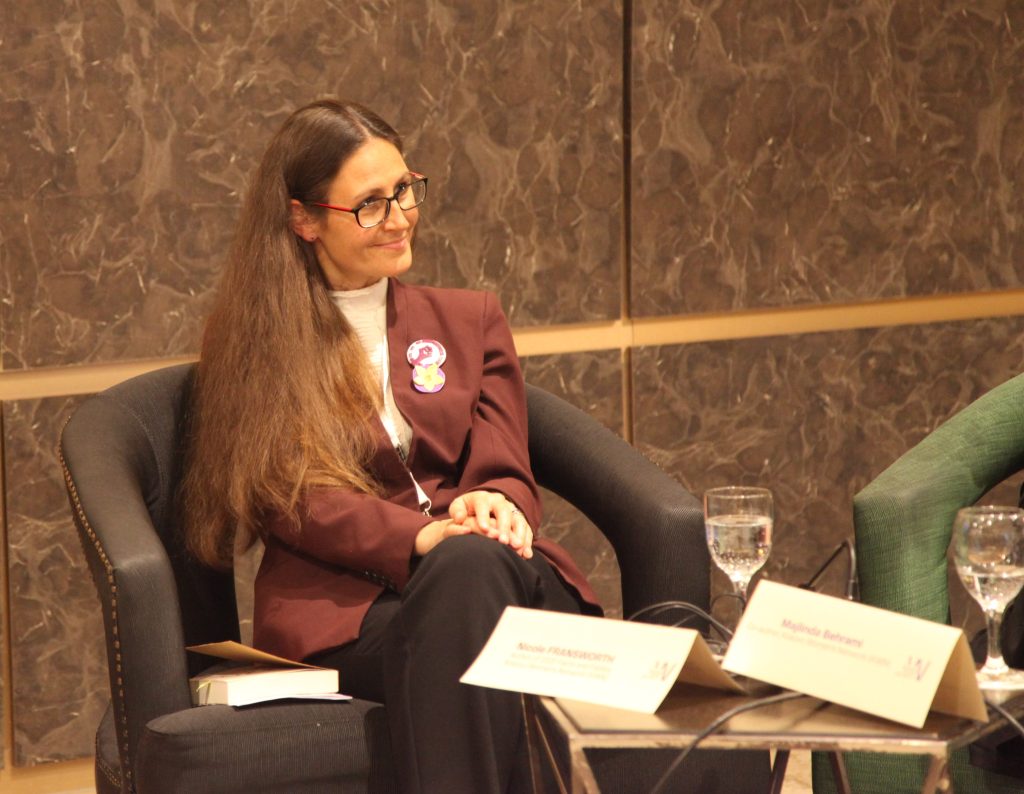 Tijana Simić LaValley, from Women's Rights recalled talked about her experience with UNMIK and EU representatives who failed meet the women's right organisations in Mitrovica. She said they always met "the same organizations led by three men. She said that the EU representatvies as well as (the EU envoy for Kosovo-Serbia talks Miroslav) Lajcak should be in this event and learn from the book's stories. She said that the failure of these representatives to hear the women's right activists today, might be included in the next edition of this book after 10 years.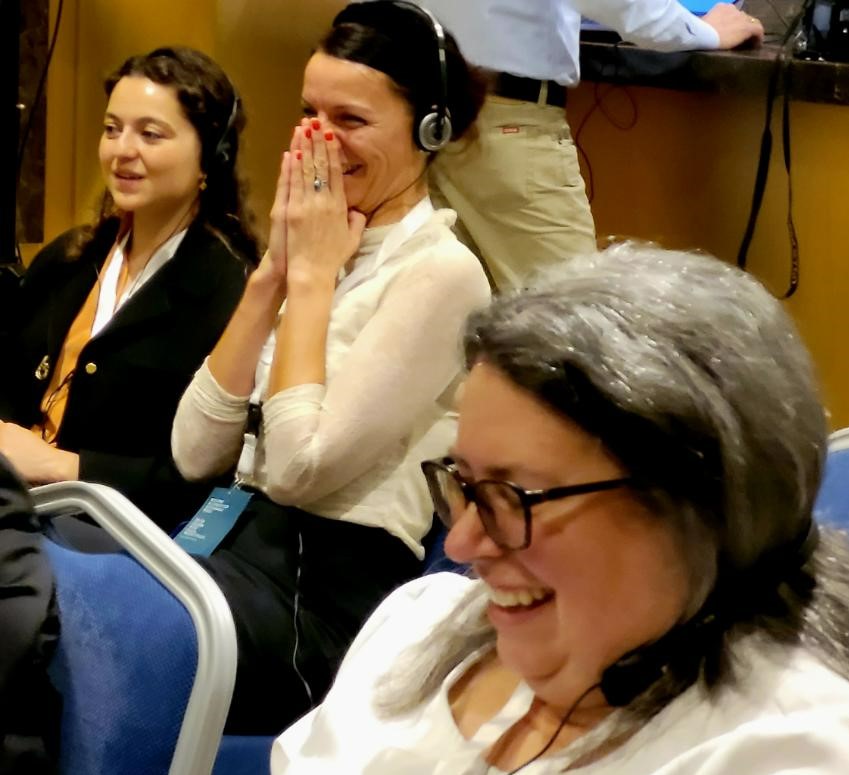 Ariana Qosaj Mustafa, women's rights activist and KWN Advisory Board Member said that overall, there is lack of government and political willingness. "Even though they have AGE, they don't mainstream [but rather] side stream gender," she said
The storytelling was followed by an open discussion. Nicole Farnsworth, KWN Program Director and Lead Researcher, and the book's editor, moderated the event.
The electronic version of the book is available on KWN's website. Hard copies are available at KWN's office or can be ordered online, by noting "1325 Facts & Fables" in the comments section.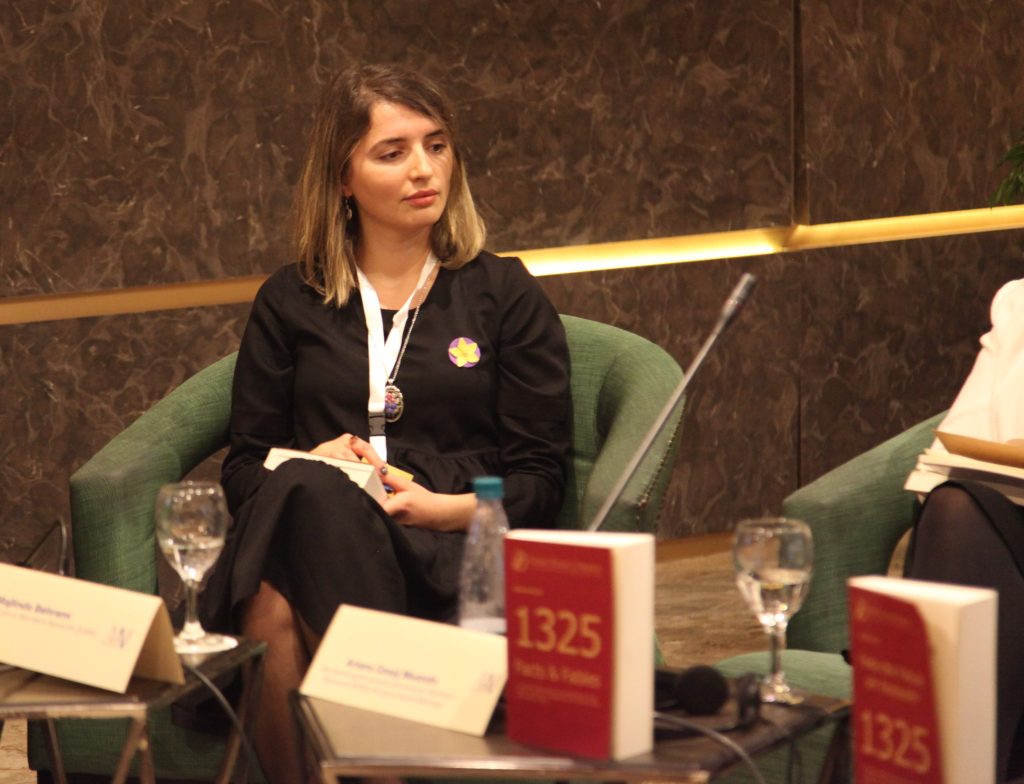 United Nations Security Council Resolution 1325 on Women, Peace and Security was adopted in 2000, just as the war had ended in Kosovo and as several insecurities continued. Since its adoption, women's rights activists in Kosovo have used the Resolution to call for their right to participate in decision-making, peace processes, security forces and economic recovery programs, as well as to seek justice and support for women who have suffered sexual violence during the war. Resolution 1325 calls on states and international missions to ensure women's participation at all levels of decision-making, ensure protection of women in conflict and post-conflict situations, to prevent violence and to ensure access to relief and recovery. For more than two decades KWN has advocated for and monitored the implementation of Resolution 1325.