On November 4th, Sant'Anna School of Advanced Studies based in Pisa, Italy hosted the conference Celebrating 20 years of UNSCR 1325: Past, Present and Future of the Women Peace and Security Agenda.
In this conference was discussed about the current challenges and future development of the WPS agenda in Italy, North Africa and the Western Balkans. Experts, scholars, representatives of women's organizations and representatives of European Institutions were participating.
Majlinda Behrami, Project Coordinator at Kosovo Women's Network (KWN) was part of the panel Voices from The Field. She focused on the needs and challenges of women and young women in Kosovo based on the findings of the latest research conducted by KWN, Where Is My Seat at the Table.
Behrami pointed out the main obstacles that women and young women face in regard to their involvement in peace and security processes but also their needs and priorities regarding the Dialogue between Kosovo and Serbia which have been also addressed through open letters to the Prime Minister of Kosovo and to the EU Special Representative for the Dialogue Miroslav Lajcak on the 20th Anniversary of Resolution 1325.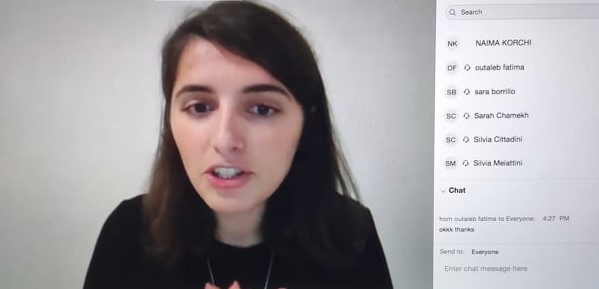 Soumita Basu from South Asian University, New Delhi highlighted the important work done by women peace activists and peace advocates and in the institutional context of the Women, Peace and Security (WPS) Agenda framed by UN Security Council Resolution.
Laura Davis from European Peacebuilding Liaison Office (EPLO) stated that there are many great achievements in regard of the implementation of WPS Agenda in the last 20 years.
In the second part of the conference, Clara della Valle presented the findings of the report Enhancing Women's Participation in Peace and Security (WEPPS) in the Balkans and North Africa: cross-case findings. This research report measured the stage of the implementation of Resolution 1325 through the adoption of National Action Plans (NAP). An issue that has been considered very important was the lack of the recognition of the victims of sexual violence during the war and their subsequent protection and compensation. Valle also shared the main finding in Kosovo where only one NAP is adapted until today.
Part of this panel were also Kika Babić-Svetlin from Agency for Gender Equality, Ministry of HR and Refugees in BiH, Fatima Outaleb from Union de l'Action Féminine in Morocco, and Boutheina Hammami, Gender specialist for IOs in Tunisia, and Beranrdo Monzani, President of Agency for Peacebuilding.