"Women don't even rest on Sundays" was one of many slogans in the hands of activists who marched on Sunday March 8th for women and girls' rights in Kosovo.
Zahir Pajaziti Square was a meeting point for the collective "We march, we do not celebrate" protest, which marked the fifth International Women's Day, March 8.The Kosovo Women's Network (KWN) once again joined this march that found support in both Mitrovica and Ferizaj as well.
In Prishtina, hundreds of citizens marched from "Zahir Pajaziti" Square, passing by Central Bank of Kosovo, the Municipality of Prishtina and then to the Government of Kosovo/Parliament.
"With or without veil, I get the job done", "Do not touch my inheritance!", "I do not want flowers, I want a work contract", were some of chanting slogans by the protestors.They urged citizens to mobilize together against injustice and exploitation at work in both public and private sector, against the oppressive patriarchal system, as well as against all forms of injustice exercised against women and girls.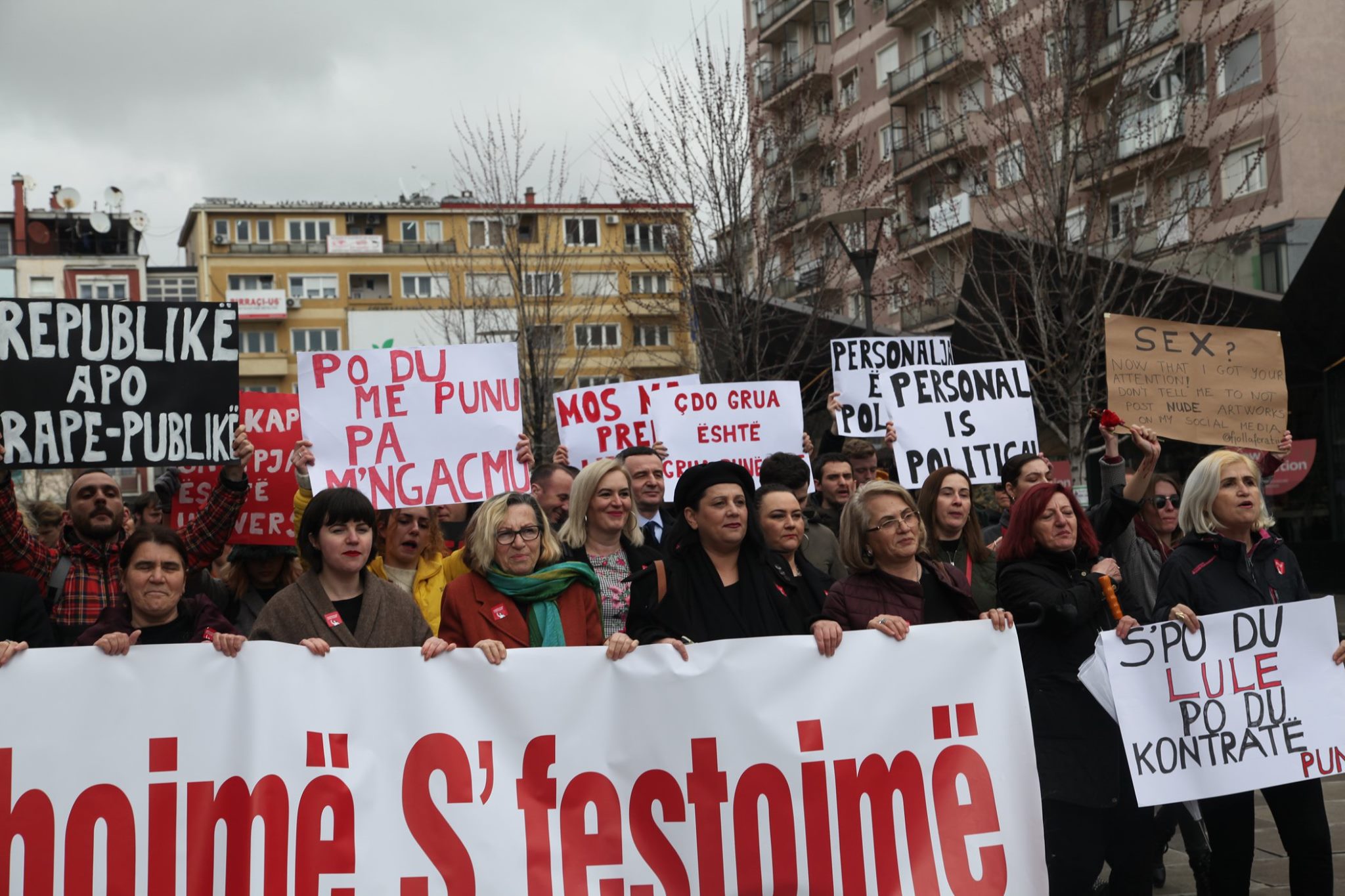 Reminding that only 13.7% of women are employed in Kosovo, moreover, even when employed, they still have lower positions, are paid less for the same work compared to men, are exposed to sexual harassment, discrimination and dismissal, the march demands are as follows:
Social policies that promote gender equality and social justice;
Parental leave should be equal for both sexes and continue to be within the law of labour;
Control over the informal economy, where women and men have terrible working conditions;
Sexual harassment should be treated seriously;
Job security for all employees of all sectors;
Health insurance for all, regardless of whether we can afford to work without pay or not!
40 hours of work per week, no additional work hours with no monetary charge!
Employees' rights improvement by implementing collective work contracts in sectoral and national level;
Fair minimum wage for each citizen of the Republic of Kosovo;
Treating everyone with dignity regardless of gender, race, ethnicity, sexual orientation, class, language, ability, religion, age, place of residence and any other individual or social character identity.