On March 9, Kosovo Police (KP) and Kosovo Police Women's Association (KPWA) opened a two-day conference on "The role Police Officers in Responding to Transnational Threats".  
This conference, first of its kind organized in the region, gathered women police officers from 26 countries around the world such as the United States of America (USA), Canada, New Zealand, Bangladesh, Indonesia as well as countries in the region as part of International Association of Women Police (IAWP).  
 During the first day of the conference, four separate discussions were held with panels consisting of women and men in the field of security, relevant institutions, international organizations and civil society, which addressed the importance and contribution of women to peace and security. 
Strengthening and promotion of women in security, challenges women and girls face to participate in this sector, difficulties in career advancement, understanding of biased police service and victims case management were the topics addressed during these discussions.  
Executive Director of the Kosovo Women's Network (KWN), Igballe Rogova was part of the panel titled "Victim-Focused Approach to Police Proceedings/Case Management". 
She congratulated the Police for this organization, which coincides with the anniversary of United Nations' Resolution 1325 that addresses the contribution of women to conflict resolution and lasting peace.  
 "The legislation requires and has quite clearly defined cooperation with social work centres, victim advocates, psychologist, doctors, etc. Whereas, due to the insufficient conditions these institutions face and sometimes even officials' lack of knowledge about trauma as well as their social values have often influenced this approach not to focus on the victim", Rogova said.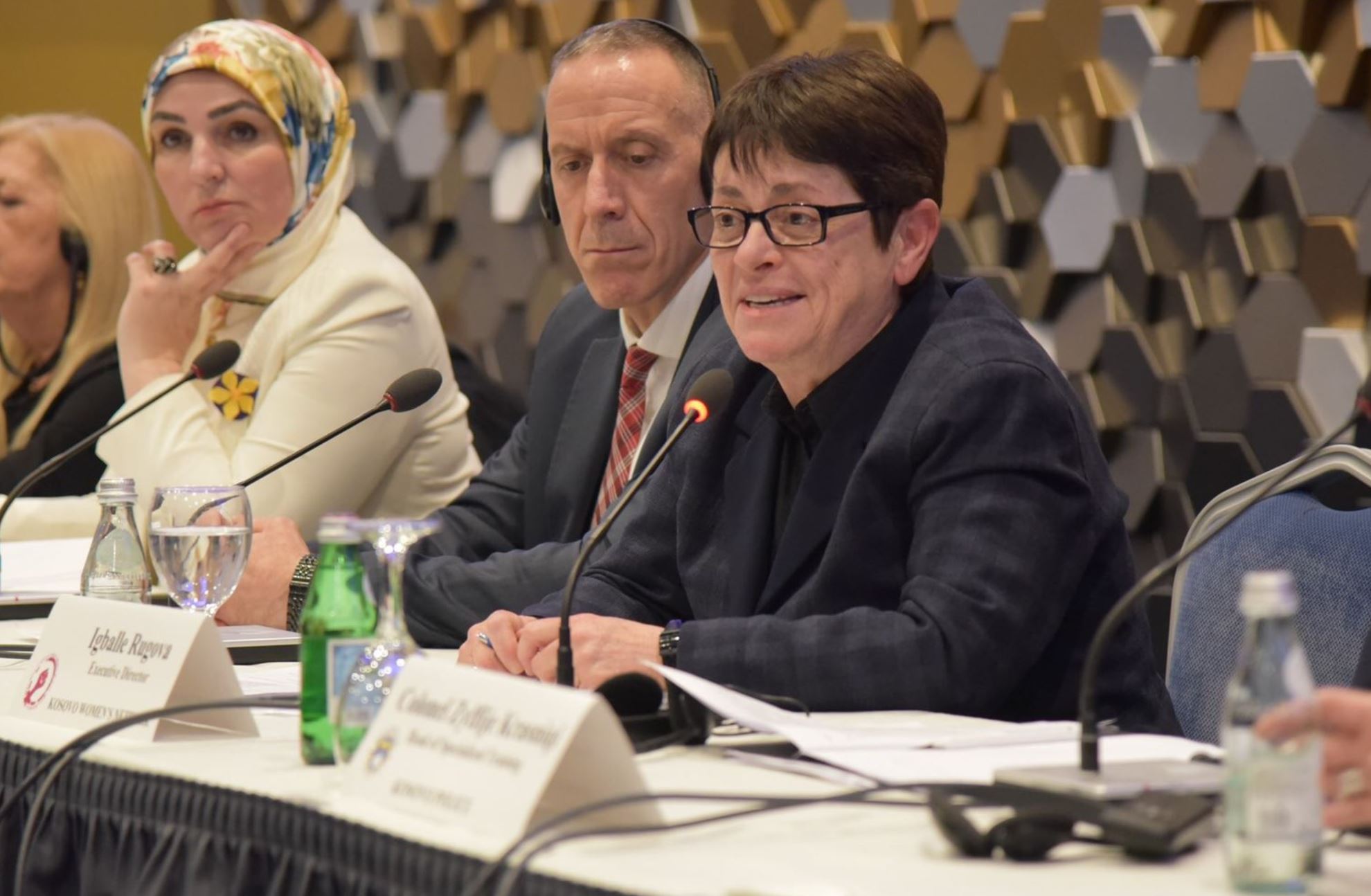 Ambassador Natalya Apostolova, Head of the EU Office in Kosovo, was part of the panel "Where we stand in support of the strengthening and promotion of women in the security sector" . She emphasized the fact that police service and engagement in the security sector is an equally appropriate job for both men and women.  
Further, former President of Kosovo, Atifete Jahjaga highly appreciated the organization of this conference and inter alia, she mentioned the challenges that women police officers face in a job that in our society is still considered a men's job.  
"There are still many challenges for women police officers that can be seen in every area, from the culture to society to the institutional culture." Jahjaga said. 
Other participants at the conference were: Minister of Internal Affairs, Agim Veliu, Director of Kosovo Police, Rashit Qelaj, Director of Human Trafficking Investigation Department, Fehmi Xhata, Judge Biljana Rexhiq, Member of the Assembly of Kosovo, Besa Ismaili, Director of Department for Security Public Safety, OSCE Mission in Kosovo, Edward Anderson, Colonel Zylfije Krasniqi, Head of Specialized Training Unit within Kosovo Police, and IAWP President, Deborah Friedl.
Minister Veliu has highlighted the plans of this ministry, pledging to promote the increase in the number of women in law enforcement.  
Through this organization, the Kosovo Police in cooperation with Women's Association expressed their commitment to further empower the role of women within this security institution.