Photo Credits: KCGS
On October 14, a consultative meeting "Economic Empowerment as a Precondition for Preventing and Combating Domestic Violence and Gender-Based Violence", organized by the AGE and Kosovar Gender Studies Centre (KGSC) was held, to mark the 25th anniversary of the Beijing Declaration and Platform Action, the 20th anniversary of Resolution 1325 on Women, Peace and Security, and the 15th anniversary of the Agency for Gender Equality (AGE)
The purpose of this meeting was to strengthen knowledge, stimulate cooperation between institutional actors in combating gender-based violence, and emphasize economic empowerment as a precondition for preventing and eliminating these forms of violence.
Participants in the panel were representatives of institutions, women's organizations, as well as international organizations.
Igballe Rogova, Executive Director of the Kosovo Women's Network (KWN), called for institutions to coordinate their agendas and put a priority on gender equality.
She praised AGE's work of over 15 years since its establishment, recalling the continuous persistence of women's organizations for this institution to operate within the Prime Minister's office.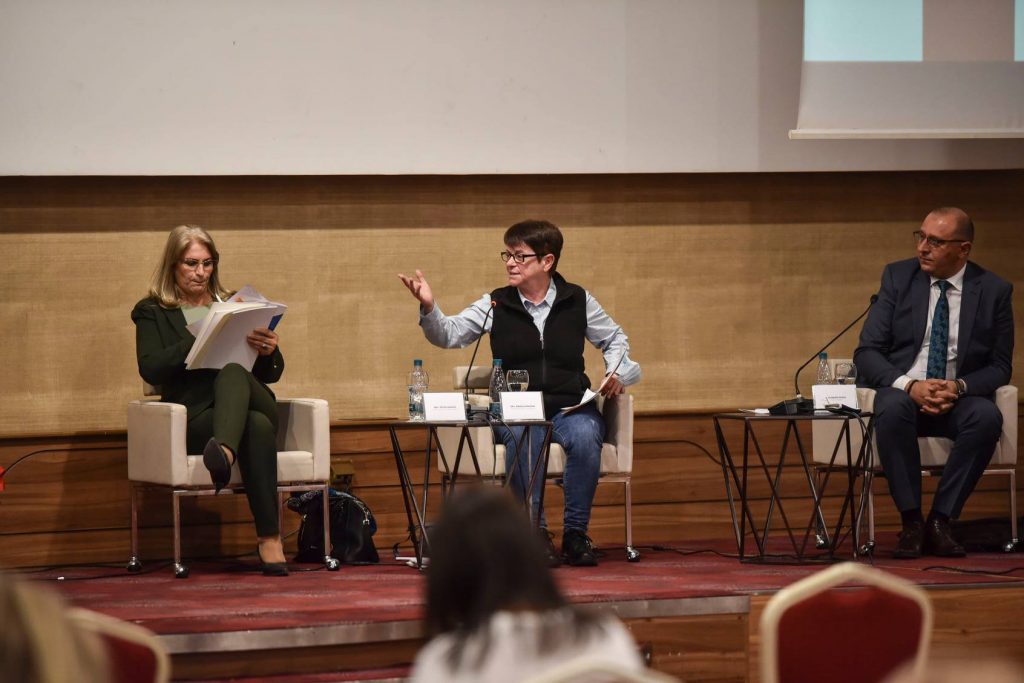 "AGE is one of the three key factors of cooperation towards functioning and achieving gender equality in Kosovo, together with donors and women's organizations", she added, inviting donors to consult with AGE on investments towards achieving gender equality in Kosovo.
The Executive Director of KGSC, Luljeta Demolli expressed her concerns about women still not bring represented in the public sphere, adding that their hardships have increased during the COVID-19 pandemic.
"The legislation is not being implemented properly. Violence remains a constant threat and reality. It is very important that the addressing of violence is a priority of the institutions and every challenge is followed according to the Istanbul Convention; that is also foreseen by the Constitution of Kosovo. Apart from addressing violence against women, we must also reflect on economic empowerment," she said.
Further, Karin Hernmarck Ahliny, the Ambassador of Sweden to Kosovo, pointed to the Swedish government's aims for feminist policies, one of the key points of which is economic and social empowerment.
"Economic empowerment means autonomy – having the opportunity to move away from a relationship in which you are not treated as a human being," she said.
Ulrika Richardson, United Nations Development Coordinator, shared the work of the UN Agencies during the Covid-19 pandemic, devoting a portion of her speech to the importance of women in the workforce.
"If we exclude women from the economy, it means a huge loss of income for our societies. If an approximate number of women and men were included in the workforce, global GDP would increase by $12 trillion", she added.
In addition, present at this meeting were Teuta Haxhiu, Member of Parliament, Ardita Dushi, Adviser to the Prime Minister, as well as Florian Dushi, Deputy Minister of Justice / National Coordinator Against Domestic Violence.