Kosovo Women's Network (KWN) member organization EULOC successfully concludes the initiative "Promoting Family-Friendly Workplaces in the municipality of Viti."
During the 5-month project, the EULOC has conducted different activities to promote the EU Directive for the Work-Life Balance. Forty-two women and 12 men have benefited from the project, including workers from the private and public sector, municipal officials and members of civil society.
The EULOC has organised two separate roundtables; the first with 25 women of Viti municipality and the other with 30 representatives of the Municipality of Viti, women associations, civil society and media.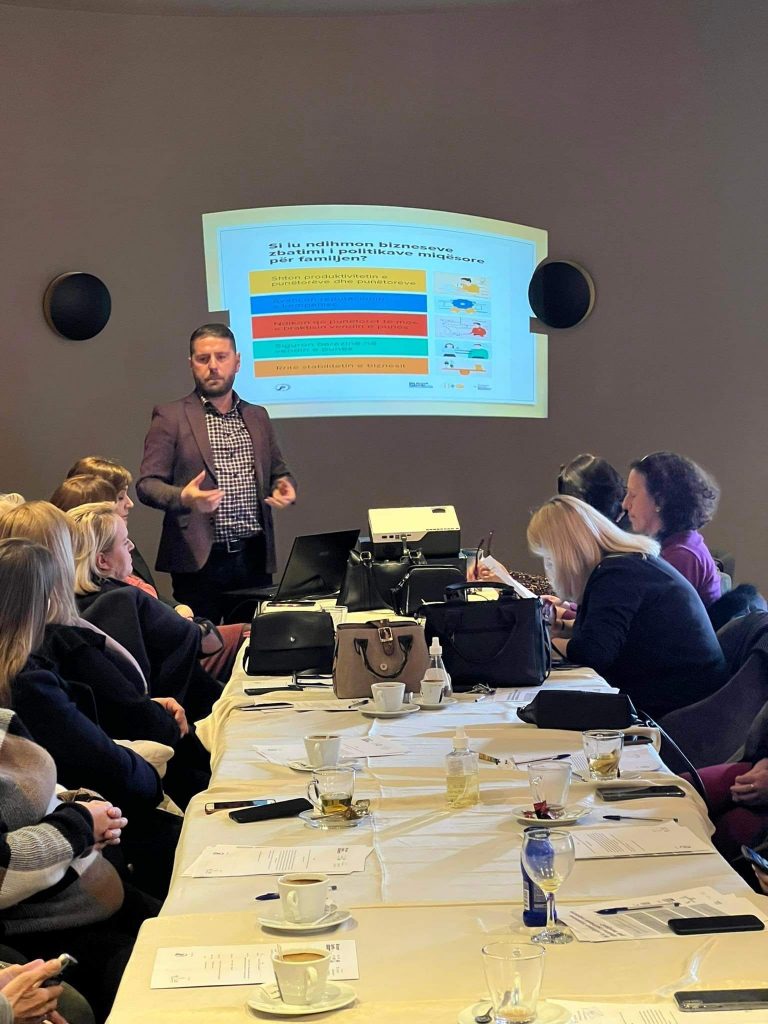 The organisation also held a training with 26 women to develop women's capacities in opening businesses and their management. You can read more about this activity here.
In the framework of promoting the EU Directive, the EULOC has distributed posters for businesses and workers and has visited dozens of companies in the city of Vitia and the surrounding area, as can be seen in this report. The organization's representatives held 14 meetings to discuss the EU Directive and its benefits with owners and representatives of businesses, which together have over 500 workers.
Florim Brahimi, Director, EULOC, said that the KWN initiative had been praised as appropriate and valuable.
"The content of the posters on the questions of why the EU Work-Life Balance Directive is in the best interests of workers and how it helps businesses implement family-friendly policies has been very appropriate and helpful," he said.
Arton Ostergllava is the owner of the styrofoam factory "Daka Therm" in Pozheran with about 80 employees, 30 of them women. He has welcomed the campaign.
"We welcome this directive. We have improved working conditions in our factory and will continuously support the workers' rights to increase the company's performance by having a fair approach to workers, he said.
EULOC produced and shared a video on family-friendly workplace policies on its social media, reaching about 40,000 people.
At the beginning of this year, EULOC signed a Memorandum of Understanding with the Vitia's Mayor Sokol Haliti, gaining support to promote the family-friendly workplace policies.
The initiative "Promoting Family-Friendly Policies at the Local Level" was supported by the United Nations Population Fund in Kosovo (UNFPA) via KWN's initiative "Expanding Choices: Gender-Responsive Family Policies for the Private Sector in the Western Balkans and Moldova," financed by the Austrian Development Agency (ADA), the operational unit of Austrian Development Cooperation.