Progress in promoting gender perspectives, women's involvement in politics, and women overcoming disabilities and tragedies were central themes at the third regular KWN members' meeting of the year.
Addressing more than 50 participants, KWN Executive Director Igballe Rogova opened  the discussion by suggesting that attendees watch the film "Zana" by director Antoneta Krasniqi, which unfolds the tragedy and trauma that an Albanian mother underwent due to the war in Kosovo.
Given that we are on the verge of early parliamentary elections, Rogova highlighted the "Vote for More Women in the Parliament" campaign, which was conducted in more than 15 Kosovo municipalities, involving about 200 volunteers from KWN member organizations.
"We always say that there are a lot of strong women on all the (party) lists", Rogova said. "Personally, I went out in the field and met with the citizens, and this was  a very good thing because the citizens constantly said that it was time to vote for women".
During this meeting held on 23 September, member organizations, representatives of the Gender Equality Lobby, Kosovo institutions and advocates of KWN work and causes discussed the priorities and challenges they face in their work.
Human rights activist Shqipe Malushi indicated that she had found a great cooperation in the field for the campaign in question.
"Every time I come to Kosovo, I am more and more surprised by your constant work", Malushi said. "I am happy that KWN has gathered all of us, I am very glad that you are empowering me to decide for myself, with or without (supportive) conditions. We do the work, and conditions get created". 
Further, Nicole Farnsworth, program director and lead researcher at KWN informed the gathering about advocacy that KWN is doing in various places.
"We have worked hard with donors in Kosovo as well, and we are supporting them in order to incorporate the gender perspective into their programs", Farnsworth said.
At this meeting, the participants had the opportunity to be closely informed about the Kosovo Women's Fund (KWF), which has been involved in this year grants.
"We have received 43 applications in total, of which 14-16 will be beneficiary organizations" said Diellza Olluri, project coordinator of the fund. The KWF is in its 13th round  of awarding grants. This year it is supported by the European Union Office (EU) in Kosovo and Austrian Development Agency (ADA).
"We are now at the stage when the Commission is considering the project proposals, and at the end of October we will select the organizations", Olluri explained.
 "Strengthening Women's Participation in Politics" initative was a focus of the second part of the meeting, when members were sharing information about their activities. Resmije Rrahmani from the Muscular Dystrophy Organization of Kosovo (MDA) spoke more about the initiative which was part of the aforementioned campaign to vote for more women.
 "The activities we have conducted during this period have been very successful because we have always had more participants with limited abilities who have been enthusiastic about engaging in activities" Rrahmani said. "There is discrimination toward our group as well, so this is a good opportunity for us to join hands during this four-year project".
There is also a movie being made about Rrahmani, which Rogova praised as a project that helps empowering of other women.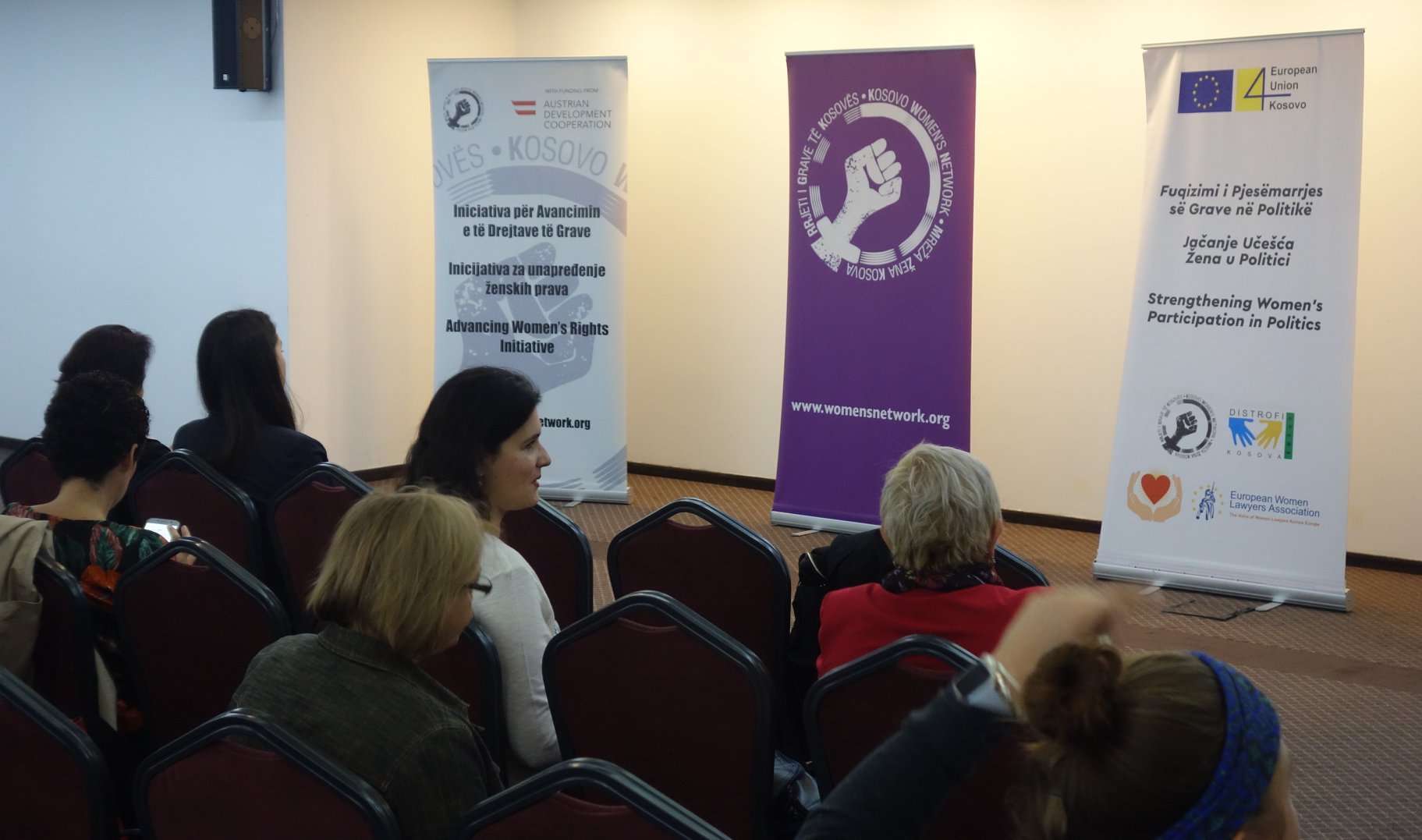 Another important topic of the meeting was the exhibition "Break the Silence: Ending Violence behind Walls" which has been opened in Prishtina, Gjilan, Mitrovica, Gjakova, and Ferizaj.
Members were also introduced to the helpline that KWN recently launched for legal assistance and counselling for victims of domestic violence, who has not received appropriate institutional treatment.
This meeting was supported by the European Union Office (EU) in Kosovo and the Austrian Development Agency (ADA).