On November 13, Kosovo Women's Network (KWN) and the European Women Lawyers Association (EWLA) co-hosted the second follow-up workshop "European Union Gender Equality Acquis: Discrimination on other Grounds and European Institutions".
KWN staff along with experts from EWLA, Katharina Miller, President of EWLA, and Sylvia Cleff Le Divellec discussed about discrimination practices in their respective countries and what needs to be done to combat efficiently numerous gender inequalities.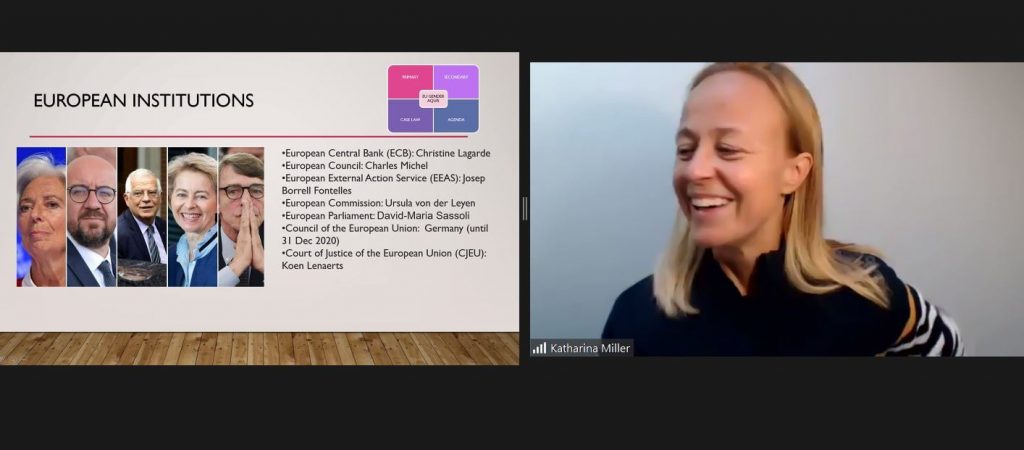 Adelina Tërshani, Project Coordinator at KWN, highly appreciated the workshop. She emphasized that it was particularly important because it helps to better understand the role of EU institutions in tackling different forms of gender-based discrimination.
"In Kosovo there is a lack of legal practice on cases of discrimination, it is very important for us to know and adopt the European practices in following such cases." said Tërshani.
This workshop was held as a continuity of the four four-day workshop "Equal Rights and Gender Equality for women and men in Kosovo", co-hosted by KWN and EWLA during October 2020.
Read more HERE.
This activity is taken under the initiative "Strengthening Women's Participation in Politics", supported by the Office of European Union Kosovo.