"Open Door" and "Ruka Ruci" organizations on May 28 held a workshop on promoting women's rights, gender equality and prevention of gender-based violence, thus marking the last activity under the initiative What brings me tomorrow.  
Belgjyzare Muharremi, Executive Director of the "Open Door" organization initially presented the topics that were discussed during the lecture. 
"Our aim is informing the youth with the phenomena such as; gender inequalities, gender stereotypes, sexual harassments and the patriarchy. Both organizations work with women and girls of the Albanian and Serbian communities", Muharremi said.  
Further, Nevenka Rikalo, Executive Director of "Ruka Ruci"has explained for the attendees that the same lectures were also given for young Serbian people.  
"During the meetings in schools, pupils have understood the goal of this initiative and have appreciated its importance too. Albanian pupils have also visited the premises of Serbian schools and this is an achievement because it enables pupils to meet and collaborate", Rikalo said. 
Trainer Valentina Bejtullahu held an interactive session with girls talking about the differences between gender and sex, gender roles, inequalities toward girls and gender stereotypes.  
Bejtuallhu also discussed about the phenomenon of sexual harassments in schools.  
"It is KWN in 2015 that has conducted a research part of which have been interviews with pupils and teachers, where it has been noted that cases of sexual harassments in schools exists", she said explaining the variety of sexual harassments forms.   
During the second part of the workshop was discussed about gender-based violence bullying and its impact on the youth's mental health.  
"Open Door" and "Ruka Ruci" through this initiative have collaborated with women and girls who have had the chance to gain a hands-on experience about women's rights and their irreplaceable role in social progress.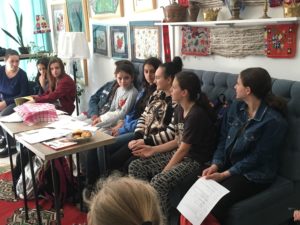 This initiative was supported Kosovo Women's Fund (KWF) of Kosovo Women's Network (KWN) and funded by the Austrian Development Agency (ADA).