The Organization of Persons with Muscular Dystrophy of Kosovo (OPDMK) on July 5, held its third informative session, within the "Strengthening Women's Participation in Politics" initiative at the Informative Center of the European Union "Europe House" in Prishtina.
This session was attended by more than 20 participants from Handikos, the Association for the Blind, Women's Group from the Association for the Deaf, as well as women with disabilities from the Prishtina region.
OPDMK is part of a four-year initiative implemented by the Kosovo Women's Network (KWN) along with Ruka Ruci organization and the European Women Lawyers Association (EWLA). It is supported by the European Union (EU) Office in Kosovo.
Antigona Šestan, Director of OPDMK, briefed the attendees on this initiative, while acknowledging the contribution of the KWN in strengthening her organization and helping achieve its goals
"This initiative aims to contribute to the overall objective of strengthening civic engagement, gender equality and inclusive democracy through participation of women in politics and decision-making process in Kosovo in various ways. OPDMK made great strides thanks to KWN's fund, and in this way we have worked on advancing the position of women with disabilities," Šestan said.
Vesa Zatriqi, Project Coordinator, KWN, spoke about the activities of this initiative as well as the expected results from its implementation.
"The initiative will officially end after a four-year period, but our common purpose is that its impact does not end there", Zatriqi said. "The work and activities to empower women's participation in politics will leave marks even after the end of this initiative supported by the EU Office in Kosovo".
Further, Zatriqi through an interactive discussion with the attendees briefed them about the initiatives of Lobby for Gender Equality (Lobby) and Coalition for Equality (CfE).
Resmije Rrahmani, OPDMK, addressed her experience of cooperation with KWN.
"KWN has always accepted us, me as an individual, and also us as an organization", she said.
The participants jointly discussed the opportunity of benefiting from the open call of Kosovo Women's Fund (KWF).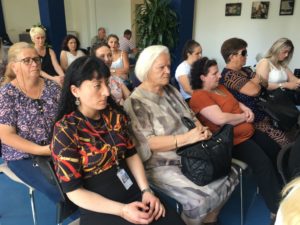 Read HERE more about the KWF's Open Call.
This meeting and this initiative are supported by the European Union (EU) Office in Kosovo.
More on this story:
Coalition for Equality discusses "Strengthening Women's Participation in Politics".
OPDMK Advocates for the Participation of Women with Disabilities in Politics.