On Jan. 28, "Psychotherapists in Action" association conducted its next visit as part of the initiative "Advancing palliative care in Kosovo and raising awareness among the community for people with special needs."
On this occasion, a five-membered family in the village of Pediq of Gjilan was visited. Doctor Ramize Ahmeti-Ibrahimi together with a medical team conveyed health check-ups of all members, while also advising them on the next steps.
Family members expressed their satisfaction with this initiative, stressing that this was the first time that such thing is being done in this village.
Apart from residents, the benefits of this initiative were also acknowledged by Doctor Ahmeti-Ibrahimi, which revealed that through these kinds of visits they achieved to make early detections of illnesses too, which has also an impact in awareness raising about the importance of frequent medical examinations.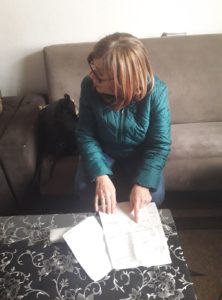 Whereas, Sevdije Musliu, Director of Psychotherapists in Action, stated that a large number of people of all ages have benefited from this initiative, even though it is still undergoing.
This initiative is supported by Kosovo Women's Fund (KWF) of Kosovo Women's Network (KWN) and funded by the Austrian Development Agency (ADA).