Pristina – The Kosovo Women's Network (KWN) on May 24 participated in the presentation of a survey on Kosovo citizens' opinions regarding the stigma against wartime sexual violence survivors in Kosovo, as well as the results of the survey with wartime sexual violence survivors, organized by the Kosova Rehabilitation Centre for Torture Victims (KRCT).
This survey was conducted during January-March 2019, in seven Kosovo regions, with a total of 164 respondents, respectively 30 sexual violence survivors (the status of sexual violence victim is recognized for 15 of them, while the other 15 are pending verification of this status), whilst the peculiarity is that the results got compared with those of the previous year.
The director of KRCT, Feride Rushiti said that they are trying to empower the survivors by abolishing all the prejudices against them.
She revealed that victims listed access to justice among the most important things to attain spiritual serenity.
"We are working together with the institutions and we think that addressing stigma, prejudice, and strengthen of the victims is very important in empowering women and girls to achieve justice, although it is a delayed justice for this sensitive social group", said Rushiti.
Head of Rehabilitation unit at KRCT, Sebahate Pacolli disclosed more of this research.
"People are now more open to communicate, they are aware that sexual violence has occurred, they do claim that victims are not sufficiently supported by society and institutions. Compared to 2018, in 2019 citizens have increased awareness about the Commission and the verification of the status of the victims" said Pacolli.
Further, it is acknowledged that 55% of citizens recognize the campaigns in support of the survivors, and that approximately 60% of citizens think that only NGOs support sexual violence survivors, protect their rights and their social integration.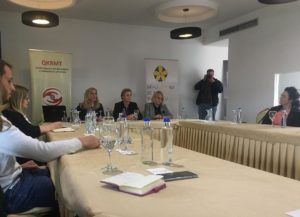 According to this research, 60% of sexual violence survivors feel confident and are preparing the application for recognition of status, without being afraid from society or family. Also, data show status recognition has had a positive impact on the lives and family relationships of Kosovo wartime sexual violence survivors.
Amidst other findings of this research are; there is an increased public awareness about sexual violence survivors, society shows a greater support toward them, the survivors have more self-esteem.