Kosovo Women's Network (KWN) joined the 1st of May protest on International Worker's Day, seeking equal opportunities for employment with a salary that ensures dignified life, health insurance, security at work, and employment without discrimination for all regardless of ethnicity, age, sexual orientation or gender identity.
The protest began at 12 PM in the amphitheatre of "Zahir Pajaziti" square in the capital city, to continue parading in front of the institutions that are responsible for respecting worker's right and improving the working conditions in Kosovo, especially in the private sector. Thus, the protesters marched to the Ministry of Labour and Social Welfare (MLSW), the Police, the Union of Independent Trade Unions of Kosovo, Labour Inspectorate, to return again at the meeting point at the square.
"For free and equal society", "With or without hijab I do the work", "My clothing, my body", "We work, they profit", "1st May is not for celebration, it is for protesting ", "Employment without discrimination", were just some of the slogans that the protesters held in their hands.
As revealed by the research report "Gender-based discrimination and Labour in Kosovo" launched this April by KWN in close cooperation with the European Union (EU), the Agency for Gender Equality and Ombudsperson Institution, women workers are more discriminated against, compared to men workers.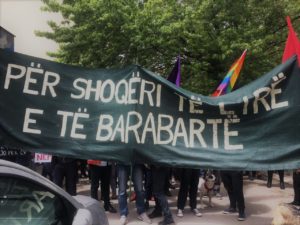 Project Coordinator at KWN, Adelina Tërshani, also one of the organizers of this protest, while unveiling the progress of this action, has further revealed why it is necessary for the Kosovar society to continue seeking more rights for the working class, as well as seeking respect for those existing rights.
"Women workers in Kosovo are being paid less than men, they are being harassed in the workplace, their right to maternity leave and work contract is violated, they are being discriminated against just because they are women. Therefore, today we have decided to protest and not to celebrate", said Tërshani.
Recalling that currently merely 12.3% of Kosovar women are employed, KWN by joining this protest, has raised the voice against gender-based discrimination in employment, against inequalities for work promotion, against unequal pay for equal work, against the violation of the right to maternity leave, against sexual harassments at workplace, against poor working conditions, as well as against of the breach of a contract of employment.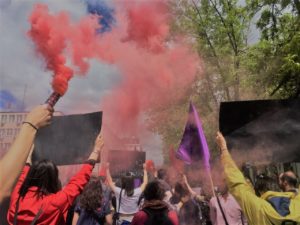 Among other supporters of this protest were also the Collective of Social Centre Sabota, Collective of Feminist Thought and Action, Pristina Anarcho-Syndicalist Group, Termokiss and National Youth Congress of Kosovo.