On 27–29 Mar., activists from Kosovo Women's Network (KWN) member organisations that are involved in assisting women who have suffered violence gathered in Durres, Albania to hone their skills in holding responsible institutions accountable for properly treating cases of violence against women.  
The interactive workshop taught women's rights activists exactly where to refer women who have suffered violence, as well as how to assist women in instances when relevant institutions do not perform their duties in accordance with the applicable legal framework.  
Participants shared their experiences and frustrations, including concerns over how some representatives of relevant institutions have treated cases of violence against women and girls in the past.  
"In the last few years, the Agency for Free Legal Aid opened its offices in our region, but they were later closed," said Nevenka Rikalo from NGO Ruka Ruci. In addition, "At the Agency in Pristina, there isn't anyone who knows the Serbian language," she added.  
Other participants also raised issues of concern, including courts prolonging the processing of cases, which leaves opportunities for interference in cases and for mediation between the victim and the offender, even though this is not foreseen in criminal cases. Sometimes, judges also provide punishments that are very low considering the crime. Further, participants criticized the unprofessional attitude of some social workers, their profession not aligning with their work description and their lack of timely response to cases of violence against women.  
"If institutions do not perform their duties, we as civil society have a responsibility to hold them accountable," emphasized Adelina Berisha, KWN Advocacy and Research Coordinator on Gender Based Violence, who moderated the interactive workshop.  
Valmira Rashiti, KWN Legal Assistant, presented and clarified the relevant legal framework.  
During the workshop, activists learned instances in which they could support women in referring cases of poor institutional performance to the Ombudsperson Institution.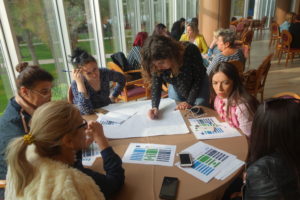 "It was important to see that one institution has higher and higher instances," said Diellza Bezera from Arpolis, referring to the information provided about how to report officials' poor performance to their superiors, and then, if not treated, to the Ombudsperson Institution. "Not all of us are jurists to know all of this information, and this [workshop] provided a good basis for all of us," she said.  
"Yesterday I realized that I haven't gone to the end of things, perhaps due to a lack of trust and tiredness… 'go here', 'go there'... maybe even due to a lack of information," Xhejrane Lokaj reflected in agreement. "If it is like this for me, what about those women who are not very educated? During this workshop, you have convined me that I have to take things to the end. […] My message: Don't give up!" 
KWN will continue to support these diverse 33 activists from throughout Kosovo, among others, in supporting women who have experienced violence in navigating relevant institutions, in order to seek justice and support.  
This workshop was financed by the European Union through the UN Women "Implementing Norms, Changing Minds" Program, via a KWN initiative on "increasing access to services for women".